How and Where to buy Karura Token (KAR) from ICO parachain auction Kraken and Hotbit
Karura is a decentralized financial hub of Kusama, created by Acala Foundation. The platform offers a suite of financial applications including a trustless staking derivative (liquid KSM), a multi-collateralized stable coin backed by cross-chain assets (kUSD), and an AMM DEX – all with micro gas fees that can be paid in any token. Karura has completed its ICO on Acala Network and now available in parachain auctions from Kraken and Hotbit. Check this step-by-step video guide on how to stake Kusama to get Karura token in Hindi.
You can register now on Kraken or Hotbit Exchange to participate in Karura token sale. Later you can buy KAR tokens on bigger exchanges like MXC, and KuCoin Exchange where you can buy KAR without KYC.
It is very difficult to find potential ICOs nowadays. So, we have created an individual page, where we share potential ICOs, you can check out the upcoming potential ICOs from this page.
What is Karura KAR Token?
Karura token is created on Kusama used for transaction fees, node incentives, governance, risk management and will be used for several other things. With a total supply of 100,000,000 KAR tokens, it will be fully diluted on genesis. Karura will deliver decentralized financial products and stable assets to Kusama's entire ecosystem of networks.
You can stake your Kusama tokens to buy KAR tokens ICO only from Kraken and Hotbit.
Karura Token Public Sale ICO
The Karura Token Community public parachain auctions allow the community to stake your Kusama(KSM) tokens which will be transferred back to their account after 48 weeks. The user will be able to buy KAR tokens from Kraken at 14 KAR tokens per Kusama.
Karura token Sale date on Kraken: Stake your Kusama till 07/27/2021
KAR token total supply: 100,000,000 KAR
Karura token ICO's available for sale: 20,695,800
Minimum Purchase limit: 0.2 KSM
Maximum Purchase limit: None
Official website: https://acala.network/
Swarm Token Whitepaper: Whitepaper
You can buy Karura tokens by staking your Kusama on Kraken and Hotbit parachain auctions. Please follow the step-by-step guide on how to buy Karura token mentioned below.
Why Karura token ICO sale is a good investment?
Karura can push the limits of what's possible, giving the Acala Foundation team a place to launch bold new financial innovations. It also provides decentralized financial products and stable assets to Kusama's entire ecosystem of networks. With Karura's flexible fee tokens, you can settle transactions with KAR, KSM, LKSM, BTC ETH, and more.
The project is backed by very big names like Coinbase Ventures, Hashkey, Republic, Pantera, Arrington and hence is in the spotlight for a while.
Looking at its supply the ICO price looks a little overpriced. But looking at the circulating supply it has a lot of room to grow and we can expect about 4-8x of profits just after launch. And for those who want to invest long term, they can expect 8-12x in the next 1-2 years. For more such upcoming potential ICOs join us at our ICO page.
Who invested in Karura Token?
Karura is backed by a lot of companies like Coinbase Ventures, Arrington Capital, Parafi, Hashkey, KR1, Polychian and several other major ones. When the supporters are that big, the demand flies like hell and we can see great demand when they start launching Kusama and DOT based tokens.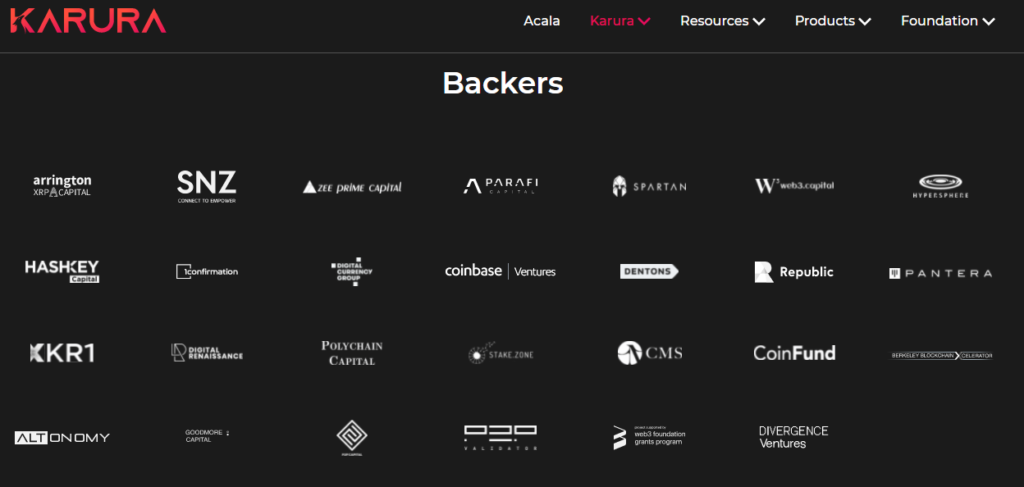 How to buy Kraken Tokens from Kraken?
Click this link to register yourself to Kraken for buying Karura KAR Tokens. On clicking the link you have to register with Kraken exchange and then complete your KYC. Once completed, you can open Kraken Earn and move to parachain auctions.
Step by Step guide to buy Karura token from Kraken
Once you create an account with Kraken. After that, you just need to follow the procedure. As you can see there are 4 steps to participate in Karura KAR token community parachain auctions. Follow this step by step guide to stake your KSM to get Karura KAR tokens from Kraken.
First, register yourself on Kraken and complete your KYC.
Deposit your Kusama greater than 0.2 KSM to the Kraken Wallet. You can also buy it from Kraken with your Bank account.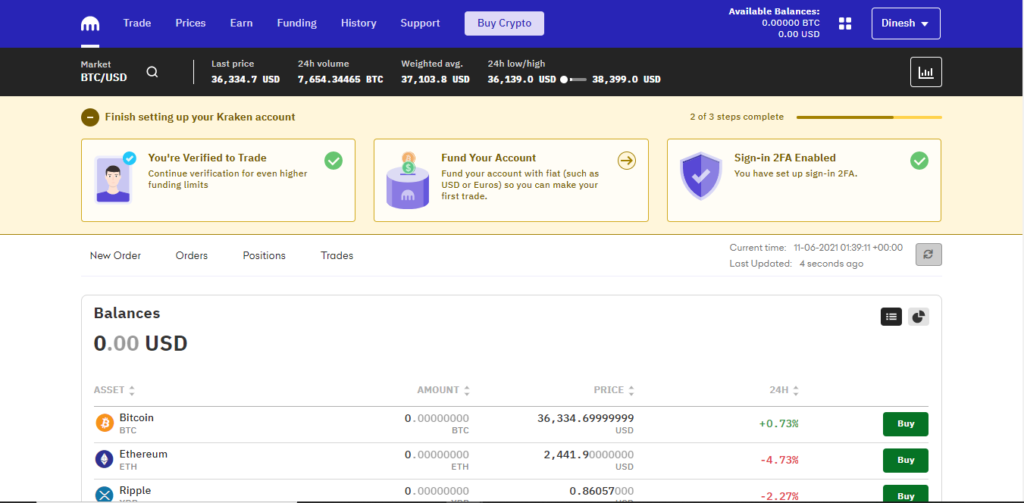 Move to Kraken Earn and then move to Parachain auctions.
Now open the Karura auction you want to participate in and stake your Kusama tokens. These kusama will be back in your Kraken wallet after 48 weeks or 366 days.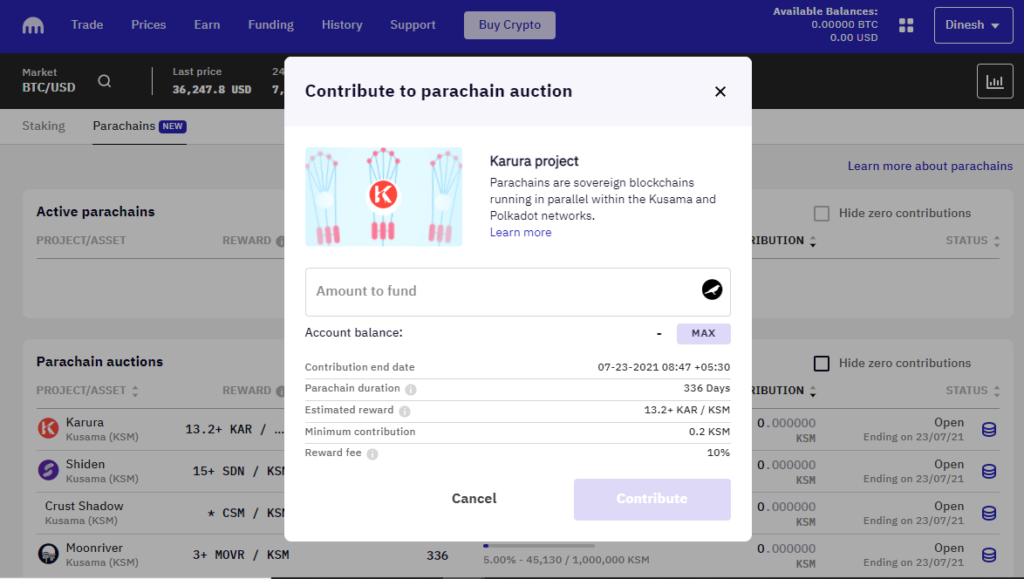 You will get your KAR tokens in your account once the sale period ends after the sale completed. 30% of tokens will be given on the spot while the rest of them will be given 48 weeks after. Later which you can sell it, as it gets listed on exchanges like Hotbit, Kucoin, and Huobi Global.
Here is a small step-by-step video guide in Hindi on how you can stake your Kusama to get Karura token with parachian auction:
Key Takeaway
The Karura token is a good project and the adaption is real. Will we see several other parachain auctions soon on Kraken and Hotbit just like Crust Shadow, Moonriver. So, get yourself registered over them and keep enjoying this new way of staking KSM or DOT to get new tokens. There is always a possibility that the platform gets hacked and its price turned to around negligible or maybe go to the moon. So, do your own research as well instead of blindly following anyone.