How and Where to buy VCORE(IMVU) ICO Details, Review, Expected Returns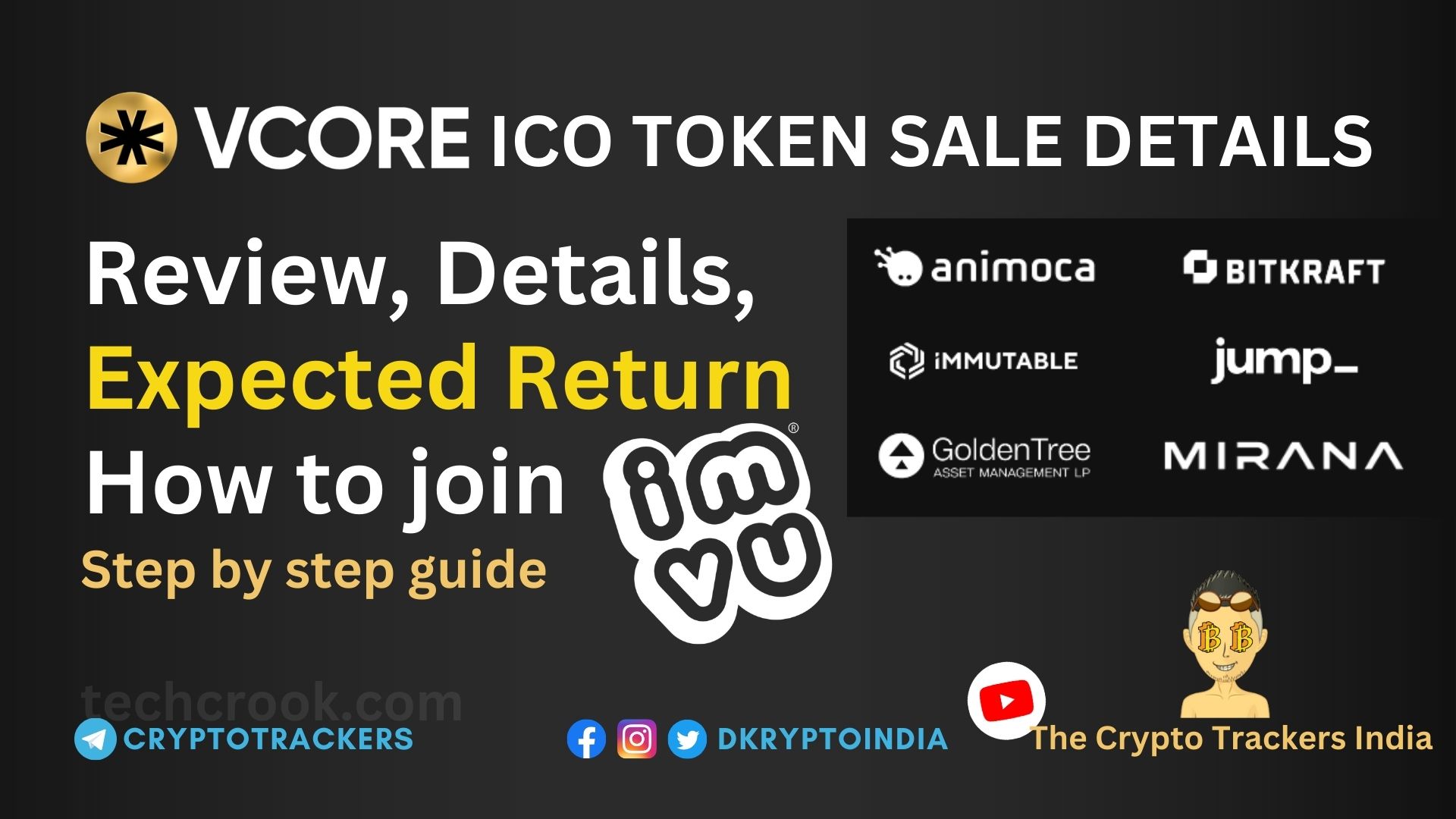 VCORE is a part of Metajuice web3 social platform imvu. This IMVU app has more than 350m+ accounts and has more than 4m monthly users. With more than 20m+ monthly digital transaction it is one of the most used blockchain related app. In this article we will discuss VCORE ICO review, how to participate in VCORE token ICO sale, expected return and why VCORE is a good investment.
VCORE ICO token sale will start on Kucoin on June 19, 2023 and you can buy VCORE tokens later from Kucoin (No KYC needed), Huobi Global (5% fee discounts), and MXEC (10% fee discounts) exchanges.
Here is an updated list of potential ICOs going on that you can invest in.
VCORE Token ICO sale is currently available only on Kucoin. The VCORE token sale is structured to take place in one stage, in which any interested qualifying party may participate.
VCORE ICO Review and Expected Returns
What is VCORE? Why VCORE Needed?
VCORE will become a critical part of the IMVU metaverse. MetaJuice bringing NFTs to metaverses, beginning with IMVU. MetaJuice NFTs will be available to more than 1 million active daily users from all over the world, and part of IMVU's vibrant community of digital goods buyers.
VCORE token is used in Metajuice and imvu app.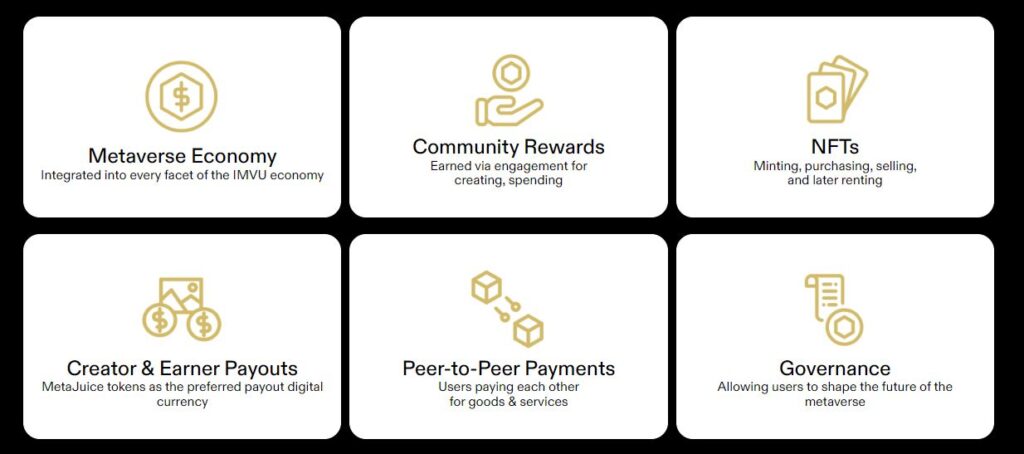 VCORE tokens will be the core part of imvu web3 metaverse and needed for the below –
– To mint, sell, buy or rent the NFTs in metajuice.
– Paying community rewards for engagements
– For peer to peer payments
– Governance and Interoperability
VCORE ICO Review and Expected Return
VCORE is an ERC-20 token that rewards the community, creators and earners as they build the future Metaverse. VCORE will first be integrated directly into the massive IMVU metaverse and empower the international community to shape the future economy. Along with VCOIN and NFTs, VCORE is another essential building block to accelerate the transition to a complete blockchain economy, setting the new economic standard. VCORE will be available outside the US and Canada.
VCORE is one of the highly demanded product, as the associated app is already being used by more than 350m+ users and 1m+ users active daily. If you look at the google platy store you will see there are more than 100m downloads with 500k+ reviews. VCORE will be at the core of this app and Metajuice.

VCORE expected return is 5-10 times. Although this is estimated return, so please DYOR as well, before taking any decisions of your own.
The expected return is determined after looking at the VCORE community, socials, demand, products used daily, investors, and token distribution. After all that, VCORE token ICO is expected to return 5x-10x. That means if you invest $100 it can return 3 times of that i.e. $500.
Please Note – New tokens are highly volatile and expected returns can vary a lot from the provided. This is just an expectation, so don't consider this as guarantee to anything.
VCORE Token ICO Community Sale Details Kucoin Spotlight
The VCORE Token ICO Community sale allows the community to purchase up to 16,000 VCORE tokens. The user will get VCORE tokens at a pre-launch price of $0.00625 per token. You can buy up to $100 worth of VCORE tokens from the Kucoin token sale.
VCORE ICO Sale Period: June 16, 2023 – June 18, 2023
Eligibility: Non-US persons only
Minimum Purchase limit: $100
Maximum Purchase limit: $100
VCORE ICO Token Allocation for Kucoin sale: 40,000,000 VCORE tokens (ERC20)
VCORE Token Generation Event (TGE): 50% unlock on or around June 20, 2023 and 50% after 30 days for TGE.
Official website: https://getvcore.io/
You can participate in VCORE token community sales from here.
VCORE ICO Investors
VCORE tokens by metajuice are backed by several big investors in 2021-22. That includes Animoca Brands, Meta Impact Capital, BITKRAFT Ventures, Blockchain CoInvestors, Immutable X, DWeb3 Capital, Rosemoor Digital Assets, Peer Ventures, and Mirana Ventures. We have seen that these investors are big and invest only after deep research thus they invest in quality projects.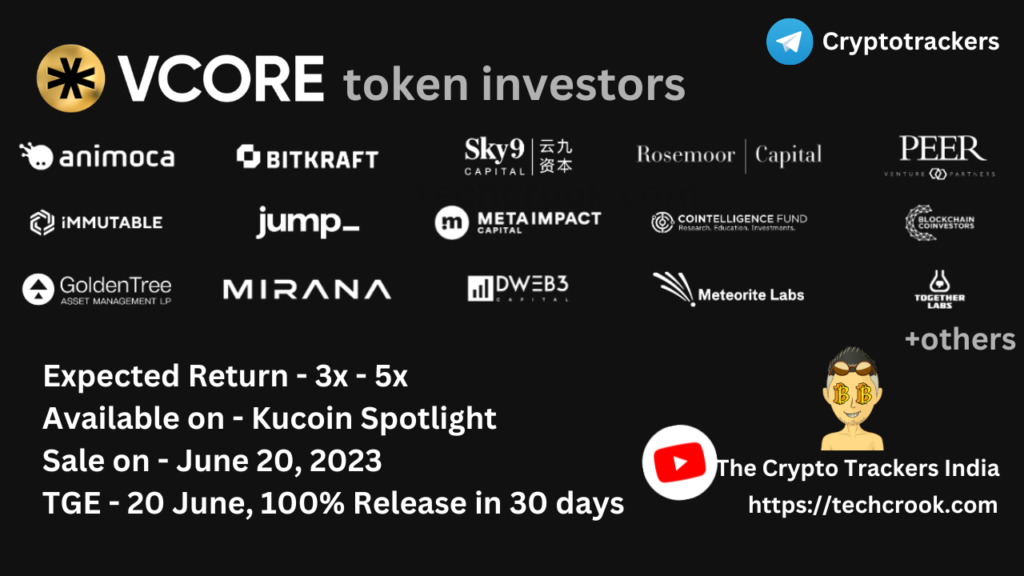 How to buy VCORE Tokens ICO from Kucoin?
Click this link to register yourself to Kucoin to buy VCORE ICO Tokens. On clicking the link you will see the screen something like the below. Fill the details and Sign up for a new account.
Step by Step guide on how to buy VCORE token from Kucoin
Here is the step by step guide on how you can buy VCORE ICO Community token sale from Kucoin.
Step 1 – Register on Kucoin – https://kucoin.com/signup
Step 2 – Complete the Kucoin KYC verification. It requires level 3 KYC verification, which is easy and can take upto 24 hours to get verified.
Step 3 – Hold atleast 20 KCS in trading account from 16 June – 18 June, 2023. An average will be counted.
Step 4 – As per amount of KCS you hold, you will get tickets according to the below table.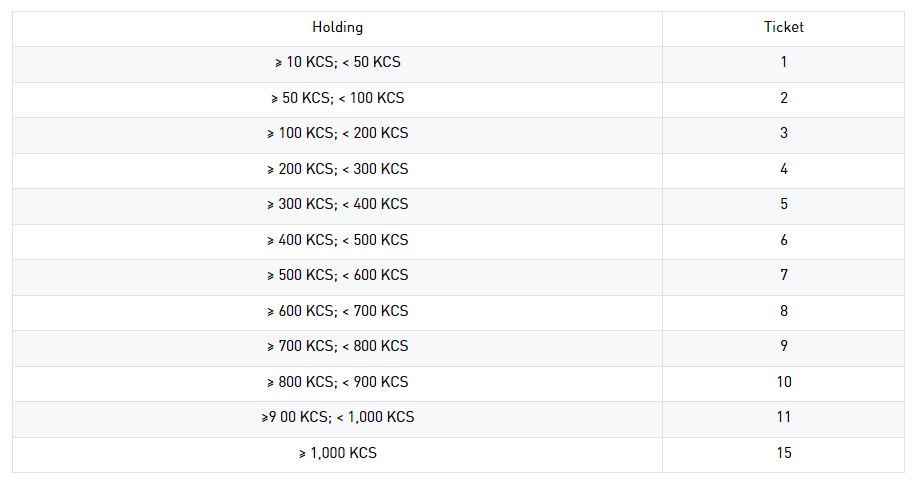 Step 5 – On June 20, 2023, Kucoin will randomly select 2500 tickets out of all tickets. If you are lucky enough and your ticket wins, you will get to buy $100 worth of VCORE tokens in this sale.
Step 6 – If you win, you have to hold atleast 20 KCS in your trading account, so Kucoin will deduct it to purchase the VCORE tokens to your account.
That's it!! Now, you have bought your VCORE tokens in ICO from Kucoin Spotlight.
What is Kucoin Bonus Tickets and How to get Kucoin Bonus Tickets
As per the table shown above, the user will get lottery tickets on holding KCS tokens in Kucoin. Now, there is also an option to claim Kucoin Bonus tickets without holding any extra KCS to your accounts.
What is Kucoin Bonus Ticket
Kucoin Bonus tickets are a way to get more lottery tickets without holding more KCS tokens. Kucoin has created an additional option for this VCOR kucoin spotlight, where users have to complete tasks to get upto 10 additional Kucoin Bonus tickets.
How to get additional Bonus tickets on Kucoin Spotlight VCORE token sale
To get additional Kucoin Spotlight bonus tickets you have to complete the tasks given at this link – https://www.kucoin.com/land/promotions/vcore-spotlight-fiesta. This tasks are simple including inviting new users to their platform, buying/selling certain amounts on their exchange, using Kucoin Futures, margin trading extra. Simply, complete these steps and you will be rewarded upto additional 10 tickets in Kucoin Spoltight VCORE ICO token sales.
Watch this video guide on VCORE token sale ICO review with Step by step guide on how to buy VCORE imvu –
Key Takeaway
Investing in new tokens is a risky venture. You must be ready to lose all the money that you are going to invest. So, invest wisely, do your own research as well, and don't blindly follow anyone. We are only investing in this project because of it's demand. VCORE listing is confirmed on Kucoin, MEXC and Gate.io. If you want to jump in, buy VCORE tokens from these exchanges after June 20.