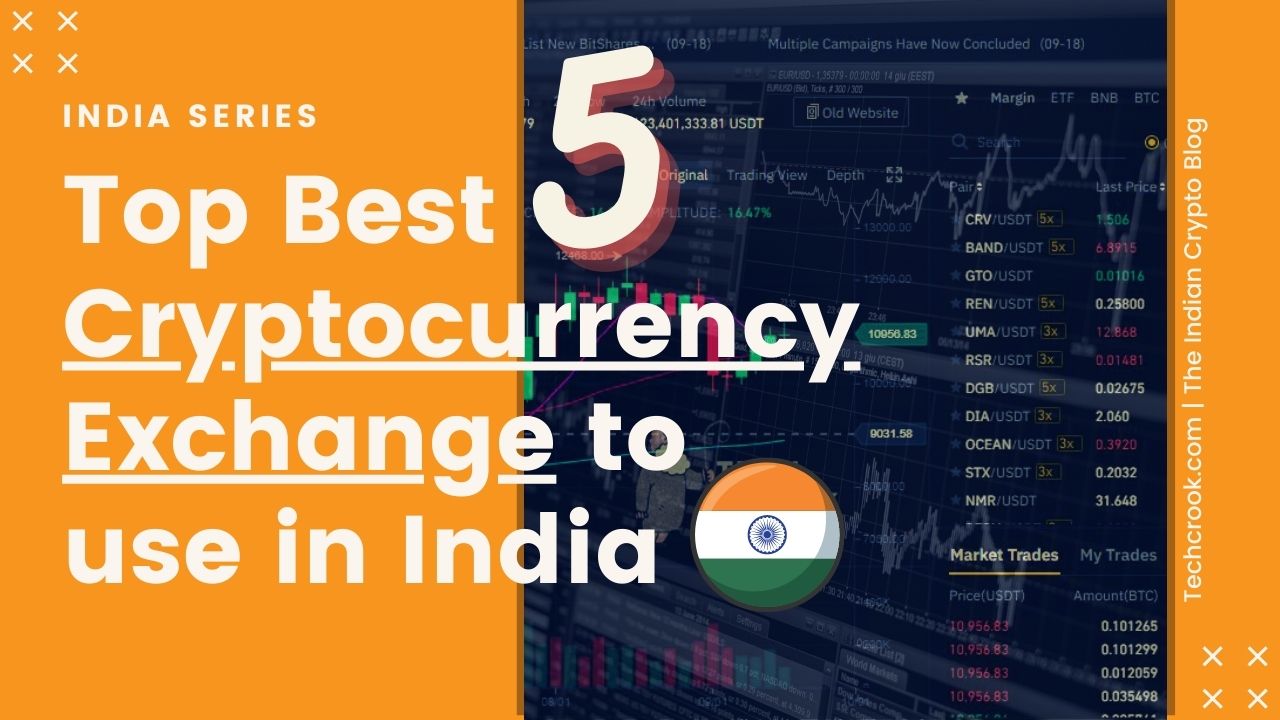 Considering how necessary is the security of your funds, ease to use, and ease of withdrawing money to your bank account. Looking at all the above points here is a list of the top 5 best and secure cryptocurrency exchanges in India. You can use any of these exchanges to trade cryptocurrency in India with a bank account or wallets like PayTM, Mobikwik, or P2P.
WazirX – #1 Best and secure Indian cryptocurrency exchange
WazirX – #1 Indian cryptocurrency exchange, backed by Binance International exchange with the trust rating 98%. It is secure, easy to use, and as it's backed up by Binance you can get additional functionalities. Like one-click transfer with zero fees from Binance to WazirX and vice versa.
Features of WazirX:
You can use PayTM, UPI, NEFT/IMPS for deposit and withdrawal. Here is a guide on how to use WazirX.
KYC needed. Daily limit INR 50,000.
Fees in WazirX?
Trading Fees is 0.2%.
Fees for withdrawing money to the bank account is INR5 – INR10 per withdrawal.
Deposit Fees with IMPS/NEFT/RTGS is INR 6.
Other Features available on WazirX?
Cryptocurrency staking available.
Stop-loss trading.
Advantage of WazirX for Indian users:
Top-notch working exchange backed by Binance.
Easy to deposit and cash out directly from the bank.
P2P functionality available which even works after any ban.
Very simple user interface.
What are Disadvantage of WazirX
The biggest disadvantage of wazirX is turtle speed development of new features.
WazirX is available globally. You can register on WazirX with this link.
---
Bitbns – #2 Working hard to deliver Indian Cryptocurrency exchange
Bitbns – You can again call it a great exchange with too many functionalities which makes it difficult for new users. But it has a great number of additional tools for advanced trading. Though its trust score is quite low w.r.t. WazirX 79%. You can use this link to register on Bitbns and get 50 BNS coins after a successful KYC.
Features of Bitbns
You can use Mobikwik, UPI, NEFT/IMPS to deposit and withdraw.
KYC needed and is a bit complicated.
Fees charged by Bitbns?
Trading Fees is 0.25%.
There are no deposit fees. and
The withdrawal fees range from INR 4 – INR 10.
Other great features of Bitbns?
Stop-loss, Margin trading, Bitbns Pool.
Stepped out in DeFi to by adding their Bitbns Finance with new coin BNSD.
API Trading.
Bitbns also provide Insurance service, SIP, and FIP with Bitdroplet. Bitdroplets claims if you invest 400 INR per month for 5 years you will get INR 1,11,000 as of September 2020.
Advantage of Bitbns for Indian users:
A most advanced Indian cryptocurrency exchange that is bringing new things every day.
Instant withdraws and deposit of cryptocurrencies.
Disadvantage of Bitbns:
UI is the biggest disadvantage of Bitbns, it's a very old style and not clean.
They had earlier faked their volume at the start, so not easily trusted.
You can register with Bitbns using this link and get 50 BNS token on successful KYC. You can use this link to invest in SIP using Bitdroplet. Or you can go desi DeFi using there BNS Finance.
---
Binance – #3 International Exchange that works with Indian exchanges
Binance – Binance recently launched trading for Indian origin users using their P2P mechanism and you can also use debit and credit card for instant deposit. And can use either their P2P platform to withdraw or can one-click transfer to WazirX and then withdraw it from there. You can use this link to register on Binance and get a 10% instant discount on trading fees for a lifetime.
Linked with WazirX make it easy to withdraw your money in a bank account while providing 150+ trusted cryptos.
Having an individual research wing on researching on cryptocurrencies that they list on their platform. Which always keeps you away with dead projects by delisting them on regular basis. Recently launched WING by Ontology and Bella by ARPA team yield farming tokens.
KYC not needed if your daily withdrawal limit is less than 2BTC which is more than enough for an average user.
Fees charged by Binance?
Fees for trading are 0.075% if paying with BNB, else it will be 0.15% which makes it quite cool if you are trading for more than $1000. And if you registered with this link then you will get 10% of that fees back on each trading.
Other great features of Binance Exchange?
Binance Pool, Stop trading, Margin trading
Binance Futures, Savings, P2P, Crypto loans and swapping available.
You can use this ultimate guide on how to use binance for beginners.
Advantage of Binance for Indians:
The biggest advantage of Binance for Indians is its collaboration with the Topmost cryptocurrency exchange WazirX. Which makes it a one-click transfer of asset at 0% fees and thus easily manageable.
The above is the biggest advantage of all, just because of that we can access an exchange with all the extraordinary features that our local exchange is still not providing.
Disadvantage of Binance for Indian users:
There are two many things over Binance, that normal user not interested in or get confused easily. Though there is not such a big disadvantage of now.
You can use this link to register on Binance and get a 10% instant discount on trading fees for a lifetime.
---
Huobi Global – #4 International Exchange that works just like Binance
Huobi Global – A very tough competitor of Binance. It is also available for Indian users and anyone can buy it without KYC. The biggest advantage of Huobi is its simple interface and again having 200+ cryptocurrencies to buy it from. Use this link to register on Huobi to get 20 USDT on Registration and get 150 USDT after completing other tasks.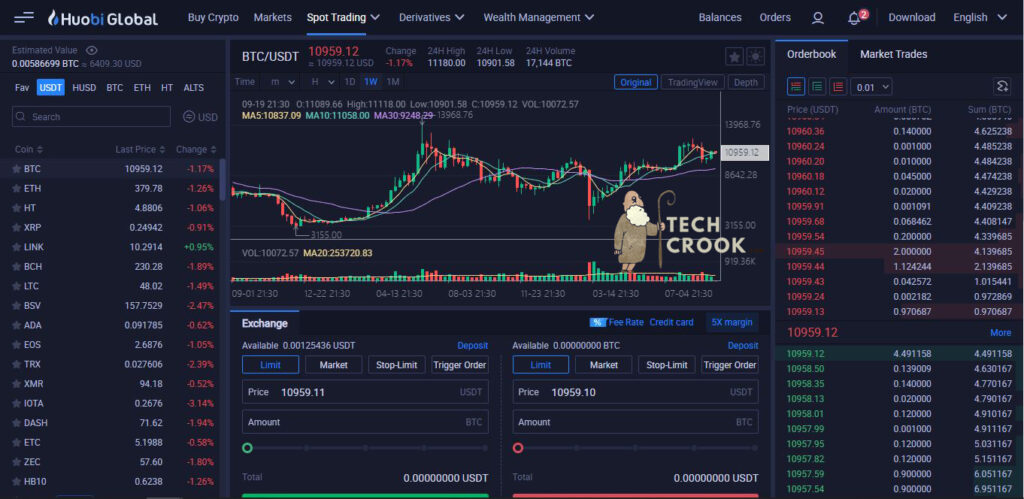 KYC, not necessary.
Brokerage Trading, Asset servicing, Asset custody are prime features.
Fees charged by Huobi Global?
Fees for trading varies from 0.07% – 0.20% depending upon the Huobi Token(HT) balance.
Use this link to register on Huobi to get 20 USDT on Registration and 150 USDT after completing other tasks.
Other great features of Huobi Global Exchange?
Huobi Pool, Stop trading, Margin trading, Huobi staking
Huobi savings, Huobi Futures, Swapping, and Wealth management.
Advantage of Huobi Global Exchange for Indian users:
Indian users can access all the prime and exclusive features of this international exchange like Wealth management.
---
Hotbit – Not a top-level but you can invest in new coins before their listing on prime exchanges
Hotbit – Yet another exchange that lists any coin that comes to them. It makes it very risky as in the current date it has 600+ cryptocurrencies listings. But the good thing is if you found a good cryptocurrency that has a future and can get listed later on exchanges like Binance then you can earn a fortune. You can get new cryptocurrencies like YFFI, YFII, DMD, SBREE, SUSHI, CVP here. These currencies are here before they get listed anywhere else.
Advantage of Hotbit for Indian Users
As it lists every cryptocurrency, using it for buying new cryptocurrencies can be risky. But once you register with them you know if a new coin comes where you will find them.
In these DeFi crazy days, they had listed 60+ DeFi coins out of which 10 had already 5x my investments. But 3 of them are -7x, so keep yourself registered anything can happen.
There are other platforms in India including CoinDCX, Buyucoin, Unocoin they are also okay to work with. But I highly recommend the above listed for any kind of trading due to their global market demand and support (except Hotbit).