How and Where to Buy Neon ICO from token sale on Coinlist and Neon EVM Review
Neon EVM Token (NEON) is the native asset for the Neon protocol. Founded in 2021. Neon takes advantage of two major networks Ethereum and Solana. Neon EVM brings together the best of both chains while keeping user security and safety paramount. Here is a step-by-step guide on how to buy Neon blockchain ICO tokens from CoinList.
Neon ICO token sale will start on CoinList on June 8, 2023 and you can buy NEON tokens later from CoinList Pro, Kucoin (No KYC needed), Huobi Global (5% fee discounts), and MXEC (10% fee discounts) exchanges.
Here is an updated list of potential ICOs going on that you can invest in.
Neon Token ICO sale is currently available only on CoinList. The Neon token sale is structured to take place in one stage, in which any interested qualifying party may participate.
Neon ICO Review and Expected Returns
What is Neon EVM? Why Neon EVM Needed?
Neon is the only EVM on Solana, allowing Ethereum developers to build without Rust language. As it is taking advantage of both Ethereum and Solana networks. It is scalable and has as low-cost transactions as Solana, and can use tools existing on Ethereum. The platform allows developers to deploy Ethereum dApps without undertaking any reconfiguration, this includes Uniswap, SushiSwap, 0x, and MakerDAO.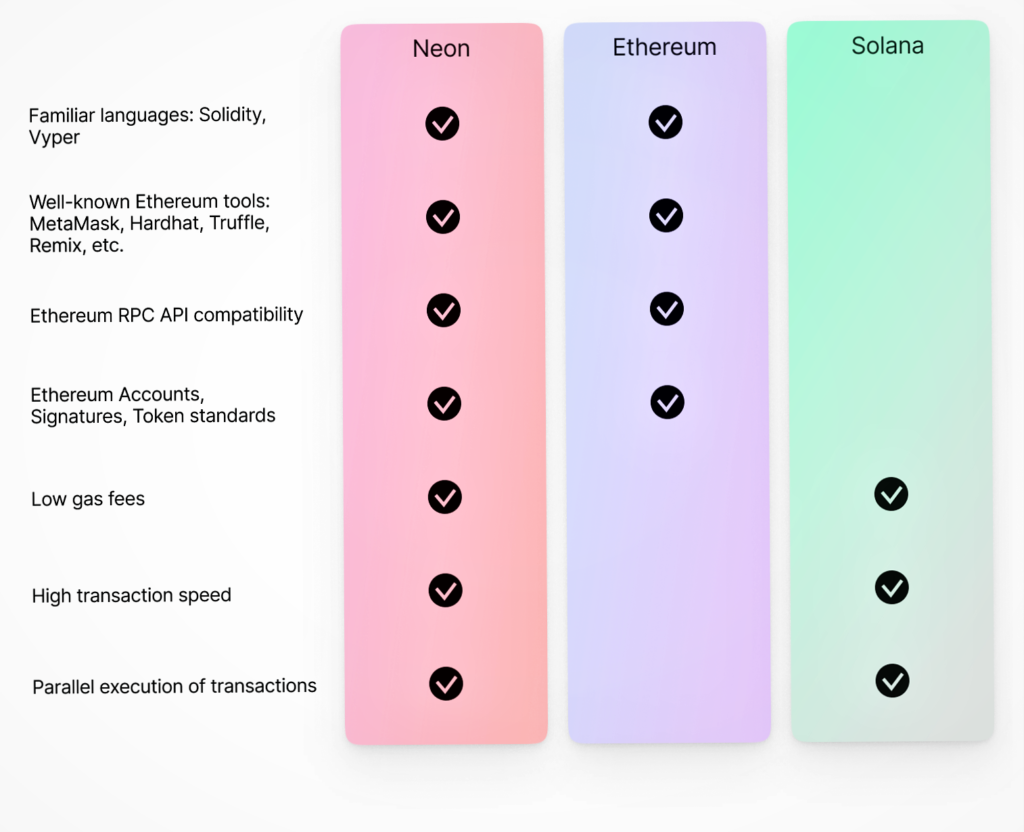 Neon ICO Review and Expected Return
Neon is raising $5,000,000 from the Coinlist Community sale which is 50,000,000 NEON tokens on the Solana chain. The team has already raised $40M in pre-seed rounds from Jump Capital, Three Arrows, Solana Ventures, and others. For buyers on Coinlist, it's 100% on TGE. So, this is the only supply that is coming on TGE. For every other, there is a 1-year cliff. Although looking into the demand and hype, it is not enough to reach a new height. Zetachain is already doing the better of it and on a bigger scale as well.
Aave, Curve, and Sobal, three well-known Ethereum-based applications, are getting ready to launch on Neon EVM once its mainnet launch goes live.
The expected return is determined after looking at the Neon EVM community, socials, demand, products used daily, investors, and token distribution. After all that, Neon EVM token ICO is expected to return 3x-5x. That means if you invest $100 it can return 3 times of that i.e. $300.
Please Note – New tokens are highly volatile and expected returns can vary a lot from the provided. This is just an expectation, so don't consider this as guarantee to anything.
NEON Token ICO Community Sale Details Coinlist
The Neon Token ICO Community sale allows the community to purchase up to 10,000 NEON tokens. The user will get NEON tokens at a pre-launch price of $0.10 per token. You can buy up to $2000 worth of NEON tokens from the Coinlist token sale.
Neon ICO Sale Period: June 8, 2023, at 17:00 UTC
Eligibility: Non-US persons only
Minimum Purchase limit: $100
Maximum Purchase limit: $1000
Neon ICO Token Allocation for Coinlist sale: 50,000,000 NEON tokens (SPL)
Neon Token Generation Event (TGE): 100% unlock on or around July 17, 2023
Official website: https://neonevm.org/
You can participate in Neon token community sales from here.
Neon Token Priority Queue Eligibility
Alongside the community sale, the token sale will be available for Coinlist early community supporters. To check your eligibility for Coinlist Neon token ICO priority you have to earn as much as karma as possible in Coinlist. You will be eligible for the Coinlist priority queue in these cases:
If you have karma of more than 3000 on Coinlist
There is no information about Neon token priority queue from Neon project side. Although, it testnet is going on if you want to know how to participate in its testnet to get the chance(no official announcements though) to get Neon priority queue from the Neon side. Watch this tutorial in Hindi.
To join the Neon token sale priority queue you have to do the above tasks.
Neon EVM Investors
Neon tokens have raised $40m from investors in 2021 through Jump Capital, Solana Ventures, Ethereal, Three Arrows Capital, and several others. We have seen that these investors are average after going through their portfolio of investments. That's why we always look out for investors before reviewing any projects.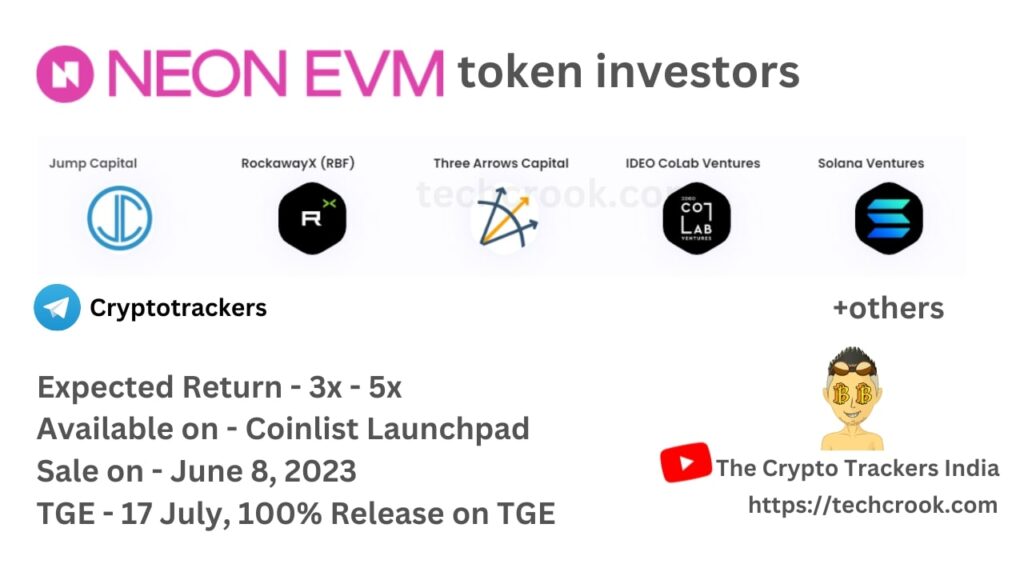 How to buy Neon Tokens ICO from CoinList?
Click this link to register yourself to CoinList to buy Neon ICO Tokens. On clicking the link you will see the screen something like the below: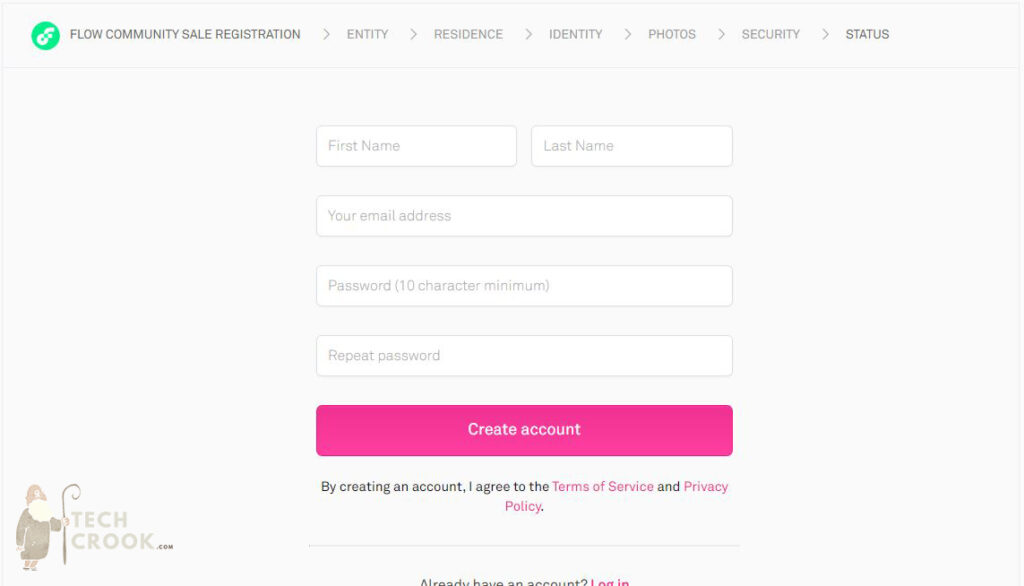 Step by Step procedure to buy NEON token from CoinList
Once you create an account with CoinList. After that, you just need to follow the procedure. As you can see there are 5 steps to participate in Neon EVM community sales.
Entity – Getting the details about the project. How much you want to purchase and all about coins. Fund your wallet and you can use USDC or USDT to purchase the NEON tokens.
Residence – You can participate in any sale unless you are from the US.
Identity – It needs KYC, so here is the identification. Submit your ID proof documents. It can be anything, your driving license, passport, or id proof with your address on it.
Photos – In this step, you have to capture yourself live with the identification proof that you have just submitted.
Security – The risk warning and funding your wallet.
Status – Now, everything is done and it is in progress. Once they deduct the funds you will officially get the NEON token with respect to the price you choose from.
You will get your NEON tokens in your account once the sale period ends on or after July 17, 2023.
Watch this video guide on Neon EVM token sale ICO review with Step by step guide on how to buy NEON
Key Takeaway
Investing in new tokens is a risky venture. You must be ready to lose all the money that you are going to invest. So, invest wisely, do your own research as well, and don't blindly follow anyone. We are investing in this project, if we got the chance in the Coinlist queue. As the demand is low, we will be investing less than 50% of the allocation in case we get the chance to invest. Neon listing is confirmed on MEXC, Gate.io, and Kucoin. If you want to jump in, buy Neon tokens from these exchanges after July 18.