PrimeXBT Exchange – Trade Cryptocurrencies, Gold, Oil, Stock indices with one account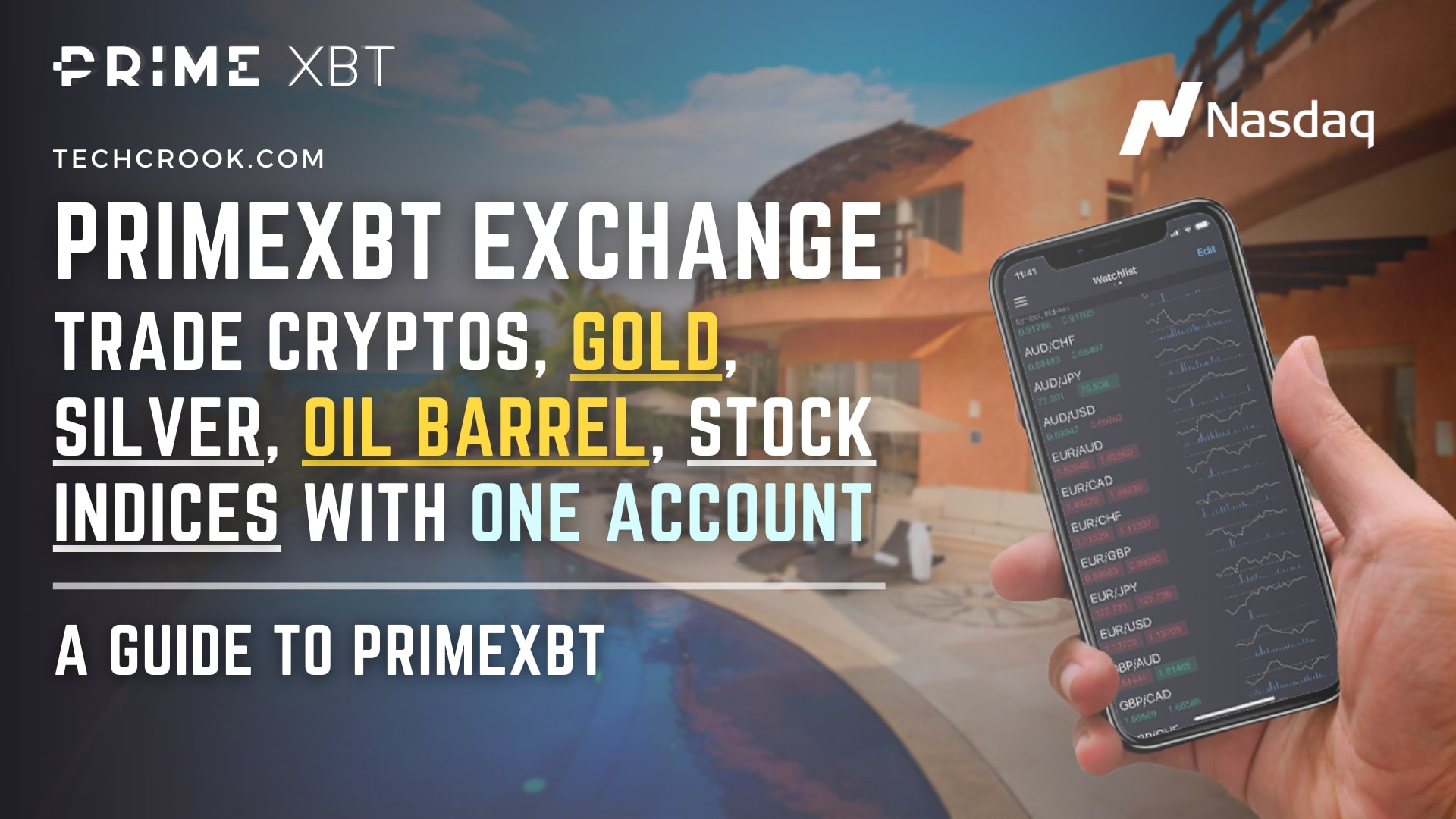 PrimeXBT is an award-winning exchange that allows you to trade global markets with Bitcoin. You can trade commodities like Natural Gas, Crude Oil, Gold, Silver, and widen your investment portfolio with less volatile markets. Avoid having to physically handle and store commodities, and benefit from the digital nature of commodity CFD trades.
Register on PrimeXBT with this link to get a 50% bonus on your first deposit and a 5% trading fee rebate on every trade. The good thing is there is no need for KYC to start trading. PrimeXBT has also launched an affiliate program to promote its exchange so they can grab more users. You can read about their affiliate program from here.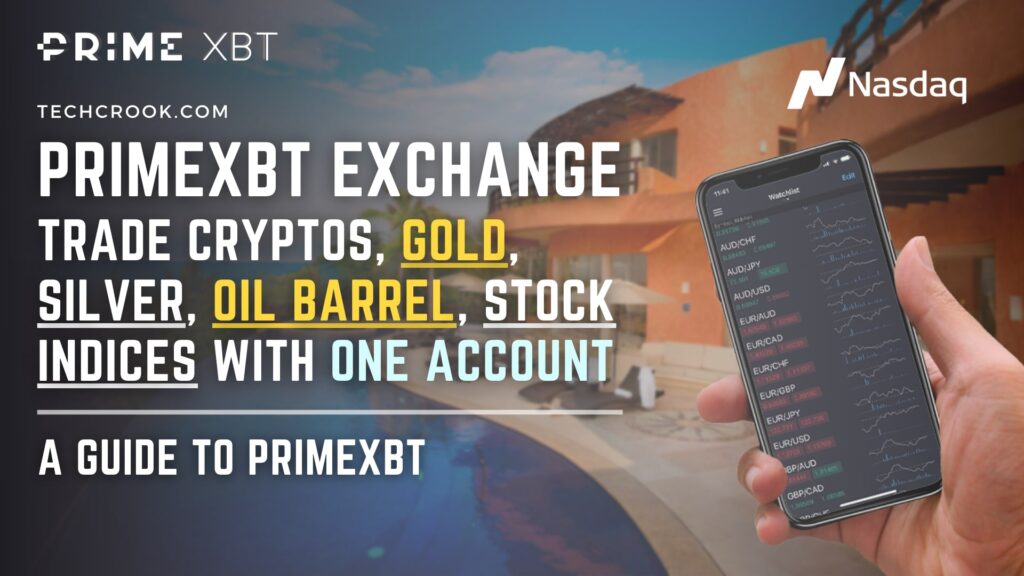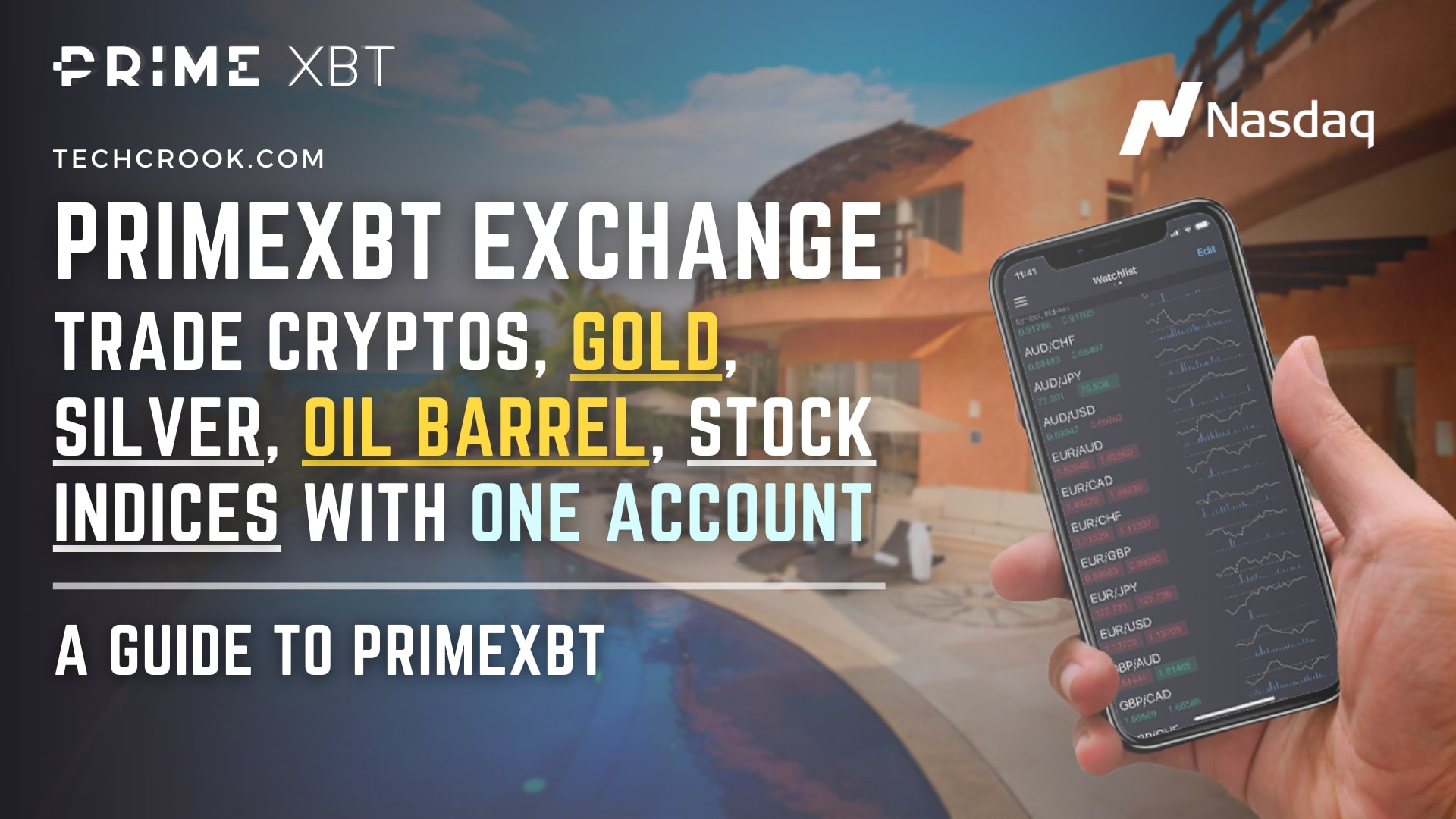 We have Binance, Coinbase, Huobi, and several other popular exchanges with tonnes of features. We have seen how Binance gets rejected for Defi products like YFI Finance, Compound, UNI. People are looking for stability, or a constant income more than taking risks. That's why PrimeXBT created its place in the middle of already established cryptocurrency exchanges. By providing commodity trading, forex trading in addition to cryptocurrency trading so the users can invest in less volatile assets as well.
Imagine a single exchange for all your stock trading, investing in gold, silver, crude oil prices, and stock indices.
What is PrimeXBT?
PrimeXBT is not just another existing cryptocurrency exchange that provides the same thing. Instead, it tries to maximize their user profits and providing as much as options for investing their money or cryptocurrencies for the most stable assets. This exchange provides everything that includes ever-growing assets/commodities like Gold, Silver, Oil as an investment.
What makes PrimeXBT a unique exchange?
We all know how volatile these cryptocurrency markets are. PrimeXBT is widening its reach to provide a more stable cryptocurrency investment platform. To give users more stability in profits they have introduced Forex Trading, Stocks, Covesting, Investment in commodities like Gold, Silver in a single platform. To those who want to expand their portfolio in these markets now just have to use just a single platform, instead of moving here and there.
We have also seen other exchanges like FTX with a similar idea. FTX allows its user to buy equities in big companies like Netflix, Amazon, Apple, Facebook, Google, Tesla, etc. Similar to this innovation PrimeXBT is providing its users to use a single platform for all their trading needs. You can use their API, or use their covesting method for minimum losses and maximize profits.
PrimeXBT Features Explained
As stated earlier PrimeXBT features make their exchange quite unique and one of the most actively traded cryptocurrency investment platforms.
What is Forex Trading in PrimeXBT?
The forex or foreign exchange market is the most highly traded and liquid market in existence. You can trade national currencies of the world's superpowers with a single click. You can invest in USD(US Dollar), JPY(Japanese Yen), EUR(Euro), and other super currencies and earn stable profits with it.
PrimeXBT allows its user to trade these foreign currencies with cryptocurrencies like Bitcoin. You can take either long or short positions and earn profits in any scenario. If you believe that currency's price will move upwards go long and if you believe it it will move downwards go short to earn profits.

Using PrimeXBT's advanced tools and charts, a trader can plan the perfect entry point or exit via detailed technical analysis and then go either long or short. Both long and short orders can also be opened simultaneously to take hedge positions and further minimize risk or maximize profit opportunity. Register with this link to get a 50% bonus on the first deposit of funds and a 5% fee rebates.
What is Commodity Trading with PrimeXBT?
Commodities trading can now be done entirely digitally through PrimeXBT and its CFDs, rather than physical trading of commodities like Natural Gas, Oil, or Gold. Getting in the commodities market without physically handling gold bars, oil barrels, etc. The price fluctuation directly depends upon the supply and demand. Those who are familiar with it can easily invest and get profit out of the commodity trading provided by PrimeXBT.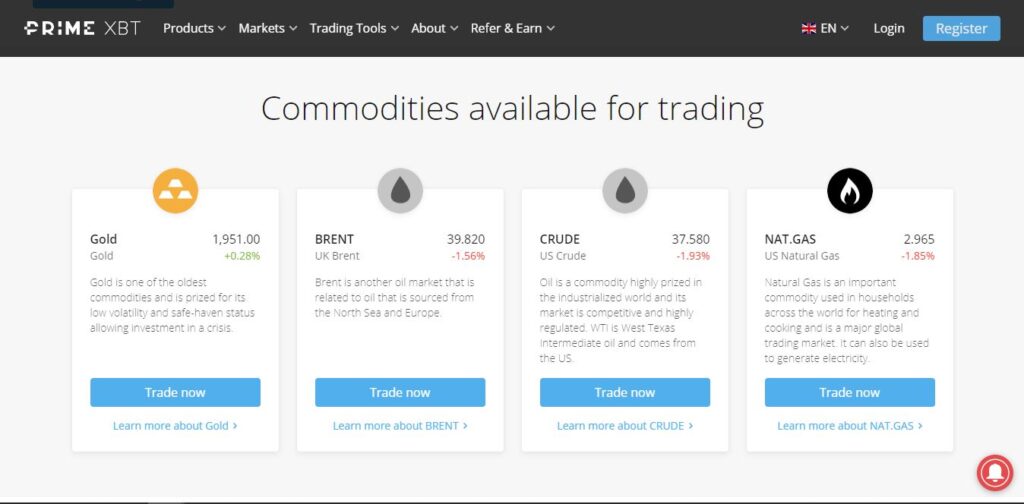 What is Leverage Trading in PrimeXBT?
Leverage allows you to get a much larger exposure to the market you're trading than the amount you deposited to open the trade. The leverage trading is a key feature of a PrimeXBT. Leverage trading allows users to put down a fraction of the full value of your trade – and PrimeXBT is providing you the rest. PrimeXBT allows its user to take leverage up to 100x.
Understanding Leverage trading with an example:
You want to buy 10 Bitcoins at a price of $15,000.
To open such trade with a traditional exchange, you would be required to pay 10 x $15,000 for a position of $150,000. If the Bitcoin price goes up by 5%, your 10 Bitcoins are now worth $15,750 each.
If you choose to sell, then you'd have made a $7,500 profit from your original $100,000 investment.
PrimeXBT Stock Indices Market Trading
Another great thing about PrimeXBT is it also provides trading of a variety of different stock indices including the NASDAQ, SP500, Nikkei, and more. Use their futures market to predict how these stock indices behave in the future and then earn profits.

Understanding PrimeXBT Stock Indices Market with an example:
If you believe that after US Elections the stock index NASDAQ will go down. You can use this data and go short with the NASDAQ on PrimeXBT and when it actually happens you will earn the profits.
These stock indices show the overall economic performance of a specific country. Stock indices can fluctuate significantly in price due to various technical and fundamental factors, and PrimeXBT enables traders to profit from both falling and rising markets with an array of different trading tools and charting software. Register with this link to get a 50% bonus on the first deposit of funds and a 5% fee rebates.
What is Covesting in PrimeXBT
The best feature so far is covesting which is also known as copy trading. PrimeXBT lets you automatically copy other traders' trading activity to get the same returns as them. Imagine if you followed a leading trader and getting the same return as him. A leading trader who spends its 24×7 hours in trading and has a lot of experience knows how the market responds to different series of events can handle your money better than you.
For Example:
A 24×7 US trader who is in this stock business for about 30 years believes that NASDAQ will definitely go up if Trump losses instead of you who is somewhere in India or some other country. Just with his strategy, knowledge, and experience, you can earn profits by providing them a small commission.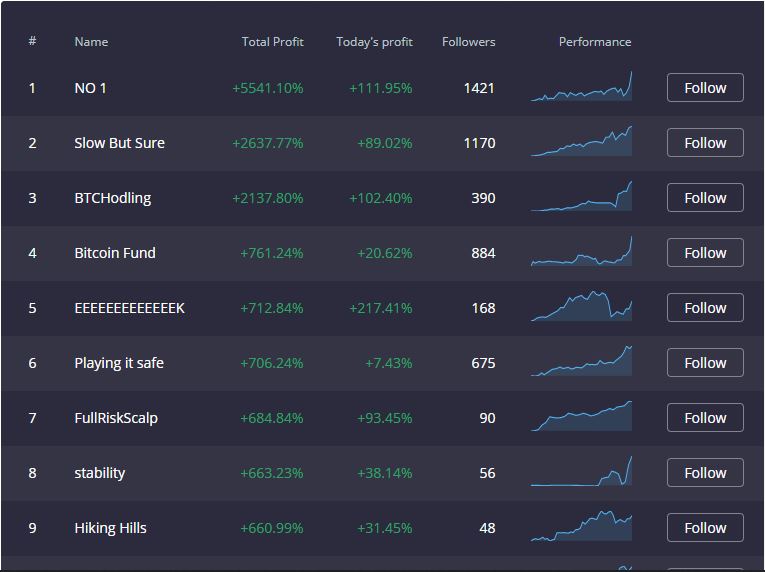 Key Takeaway
We have seen above, how PrimeXBT is creating a fully-fledged investment platform to trade commodities like oils, gold, silver, stock indices, covesting, and providing leverage trading up to 100x. We have also gone through all the features one-by-one with examples to understand how it works. PrimeXBT fundamentals are very solid and we totally believe that trading platforms like these are the futures of cryptocurrency exchanges.