Origin protocol is one of the biggest tycoons of crypto and is led by a founder of Paypal and engineers of Youtube, Google, and Dropbox. The Origin Protocol has a combined community of more than 200k+ members all over social media. Recently, the Origin protocol has announced an airdrop of Origin Dollar Governance token OGV to all its holders. This article will tell you how to get an OGV airdrop by holding OGN tokens and its products.
What is the OGV token?
OGV stands for Origin Dollar Governance token. The main purpose of OGV is to provide governance and make OGN a fully WEB 3.0 product. The origin protocol team has decided to create a separate token for governance to keep it separated from their OGN token utilities which now only represent Defi and NFT products. The OGV airdrop will happen on 12 July and users need to hold OGN tokens in their wallets to claim that airdrop. The majority of big exchanges like Coinbase, Binance, Huobi, Kucoin, and Gate will be going to announce soon that they will support this OGV airdrop to the OGN holders.
To get the full backstory on why Origin is launching a new token, I recommend checking out the original proposal. Origin is launching a new ERC20 token called OGV that will be the new governance token for Origin Dollar (OUSD). The Ethereum address for OGV is 0x9c354503C38481a7A7a51629142963F98eCC12D0 or ogv.eth.
How to get the OGV Airdrop
The ways to receive OGV airdrop are as follows –
Have/Hold OGN during the snapshot period (July 5-10)
If you had held OUSD for sometime since January 2021 and the snapshot
A detailed timeline of OGV airdrop and claim is given below.
How to get OGV Airdrop and claim timeline
Here is the timeline for OGV Airdrop and the claim guide
June 1 – Prelaunch liquidity mining campaign started
June 28 – A final list of exchanges supporting OGV will be published. Only this list of exchanges will provide an OGV airdrop to all OGN holders.
July 5-12 – OGN snapshot window you have to hold OGN to the final list of exchanges mentioned on 28 June, to be eligible for the airdrop.
July 12 – The OGV airdrop will happen and all the holders of OGN or OUSD will get 1 OGV per 1 OGN holding
The user will have 90 days to claim their airdrop till October 10, if the user didn't claim their airdrop within 90 days the token will get burnt forever.
How to claim OGV tokens after providing liquidity in Curve and Convex
The Origin protocol has allocated 50M tokens to their liquidity mining campaign. OUSD liquidity provider will get credit for providing liquidity. These rewards will be calculated block by block until the snapshot. Only Curve and Convex pools are eligible for these liquidity airdrops. For an official article read here.
List of supporting exchanges to Airdrop OGV tokens to OGN holders
Here is the list of exchanges currently supporting OGV airdrop to OGN Holders. If you already have an account on these exchanges, but the OGN tokens now, before they get expensive due to airdrop news. If not, create an account now and buy OGN and hold it in your wallet. As the snapshot will take place in early July, stake your OGN and earn while you Hold.
List of supported exchanges for OGV airdrop to OGN holders
Claim Process of OGV token airdrop on supported exchanges
The OGN token snapshot will be taken randomly from July 5-12. An average of 7-days holding will be taken and OGV airdrop will be distributed as per that only. As of now, airdrop is guaranteed if you have a DeFI wallet origin protocol wallet.
Although, if you don't have the Origin Protocol DeFI wallet, you can also use Centralised Exchange like Kucoin, OKX, Gate and Coinbase who had already announced that they will support OGV airdrop and list OGV for trading. Still a final list of exchanges supporting OGV airdrop will be soon announced by Origin Protocol team by June 28, so you have enough time to deposit your assets. You need to claim your OGV airdrop from supporting exchange only if you have holding OGN in any exchange mentioned above, after claim the OGV airdrop will be deposited immediately.
Claim OGV Airdrop for Stakers and wallet owners
All the others who are either providing liquidity to OUSD or staking on DeFI need to claim the tokens from the link provided by the team on July 12. Rules are the same, if you don't claim your airdrop within 90 days the airdrop OGV will burnt and removed from the intial supply forever.
Governance with OGV
OGV will be used to govern how the Origin Protocol will work in future, giving power to their users. Earlier the OGV proposal also passed over snapshot by voting by its users. To vote the user need to lock their OGV tokens for a certain period of time to have this power. The user will earn rewards on this staking and get substantial power of voting with veOGV tokens. These staked tokens will be locked and removed from circulating supply, which increases the performance of OGV. The higher the number of OGV tokens staked, the higher the power you will have and higher the rewards.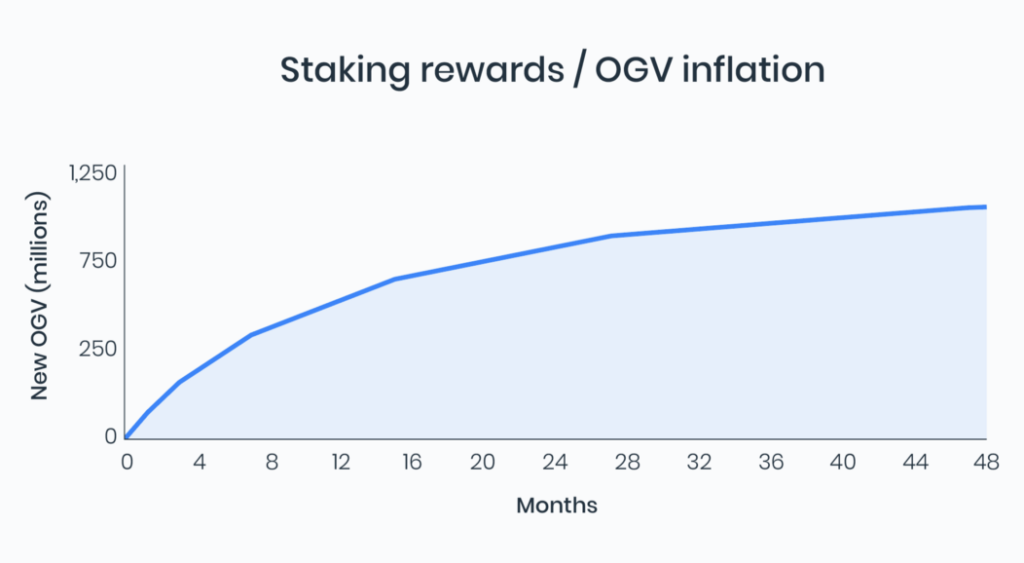 Conclusion
OGV airdrop is a good way to mint the tokens for governance and it is good for Origin protocol to call itself a truly decentralized product. To summarise here are the only ways to claim OGV airdrop –
– Holding OGN on exchanges Kucoin, Binance, Coinbase or OKX.
– Providing liquidity on Curve and Convex
– Holding OUSD anytime in between January 2021 till snapshot time.
Meanwhile, we provide exclusive and updated airdrop information on our this page time to time. Check out more airdrops here.