How and Where to buy Centrifuge Token (CFG) from Presale/ICO from Coinlist
Centrifuge Token is a Real-World DEFI. Centrifuge unlocks the capitals from real-world assets using Defi. With a circulating supply of 425,000,000 which increases by 3% per year. The centrifuge is created on Polkadot and can be bridged with Ethereum for Defi liquidity. Centrifuge CFG token is available for community sale, ICO on Coinlist from May 26, 2021. You can buy CFG tokens from Coinlist and later from major exchanges like Hotbit, MXC, and Kucoin.
CFG token public sale is now completed. You can buy CFG on Coinlist Pro after June 14. It is also expected to get listed Hotbit exchange, MXC, and KuCoin Exchange without KYC.
It is very difficult to find potential ICOs nowadays. So, we have created an individual page, where we share potential ICOs, you can check out the upcoming potential ICOs from this page. Another project Efinity token developed by Enjin ICO is going on, here is a step-by-step guide on how and where to buy Efinity tokens.
What is Centrifuge CFG Token?
Centrifuge tokenizes real-world assets like invoices, mortgages for homes, goods like cars. It puts them on the blockchain and then it enables users to borrow against these assets and opens a new way to access the capital. Centrifuge (CFG) is the native token of the network. It is used for staking, paying transaction fees, and participating in governance. CFG transaction fees will be burned at a rate set by on-chain governance so that the token supply becomes stable long-term. For more information, see the Token Summary.
Centrifuge token is targeting a trillion-dollar asset market with the help of blockchain and NFT. They simply have to create a pool and then convert their assets to NFTs and put these NFTs as collateral. In return, investors fund the collateralized pools with DAI. For which the investors get the higher returns for their liquidity provided and users will get the finance they needed against their asset NFTs.
Centrifuge token initial distribution is 425,000,000 tokens. The supply will grow 3% per year, which is subject to governance. Wrapped CFG (WCFG) is bridged to Ethereum and available as an ERC20 token using the Ethereum <> Centrifuge Chain Bridge built together with ChainSafe. Centrifuge Token (CFG) is currently available only on CoinList for community presale ICO. The CFG token sale is structured to take place on a first come first serve basis. There are 34,000,000 tokens available for sale, in which any interested qualifying party may participate.
Centrifuge Token Community Sale
The Centrifuge Token Community public sale allows the community to purchase up to $500 worth of CFG tokens. The user will be able to buy CFG tokens from Coinlist at $0.38 – $0.55 per coin.
Centrifuge token Sale Period on Coinlist: 05/26/2021 at 17:00 UTC – 05/31/2021 at 23:00 UTC
Eligibility: USA, Canada, South Korea, Switzerland and China individual are not allowed
Centrifuge token total supply: 425,000,000
Centrifuge token ICO's available for sale: 34,000,000
Minimum Purchase limit: $100
Maximum Purchase limit: $500
Official website: https://centrifuge.io
CFG Token Technical Whitepaper: Whitepaper
There are two Centrifuge token sale options available:
Centrifuge Option 1 Sale Begins: May 26 2021, 17:00 UTC,
CFG price per token will be $0.55 and tokens unlock on July 14, 2021
CFG Option 1 Supply capped at 17M tokens with Minimum Purchase: $100 and Maximum Purchase: $500
Centrifuge Option 2 Sale Begins: May 26 2021, 23:00 UTC,
CFG price per token will be $0.38 and tokens release linearly over 2 years starting from July 14, 2021
CFG Option 2 Supply capped at 17M tokens with Minimum Purchase: $100 and Maximum Purchase: $500
As sale is now completed over Coinlist. You can buy CFG tokens from Coinlist Pro from June 14 onwards.
Why Centrifuge token community sale is a good investment?
Centrifuge token will be a good investment because its product is already live and improving constantly. Also, it's backed by a good number of organizations. Just like Tinlake many other Defi platforms are joining Centrifuge token to provide Real-world Defi. Apart from that, Maker DAO is committed to adding more than $300M in real-world assets to its collateral base this year to secure the protocol. The centrifuge is also working to launch a real world asset pool on Aave. Centrifuge is also working with ConsolFreight to revolutionize the trade finance industry.
Looking at the product and adoption with its supply, it is going to be huge success from start and we can expect atleast 5-10x in upcoming year.
CFG tokens have already raised $12.3m to date since 2018 in two rounds. In addition to each round's unlocking schedule, these backers have restricted token transferability until July 31, 2021 (the same as CoinList purchasers during the Community Sale).
How to buy Centrifuge Tokens from CoinList?
As sale is now completed you can buy Centrifuge tokens from Coinlist Pro after 14th June, 2021.
Click this link to register yourself to CoinList for buying Centrifuge CFG Tokens. On clicking the link you will see the screen something like below: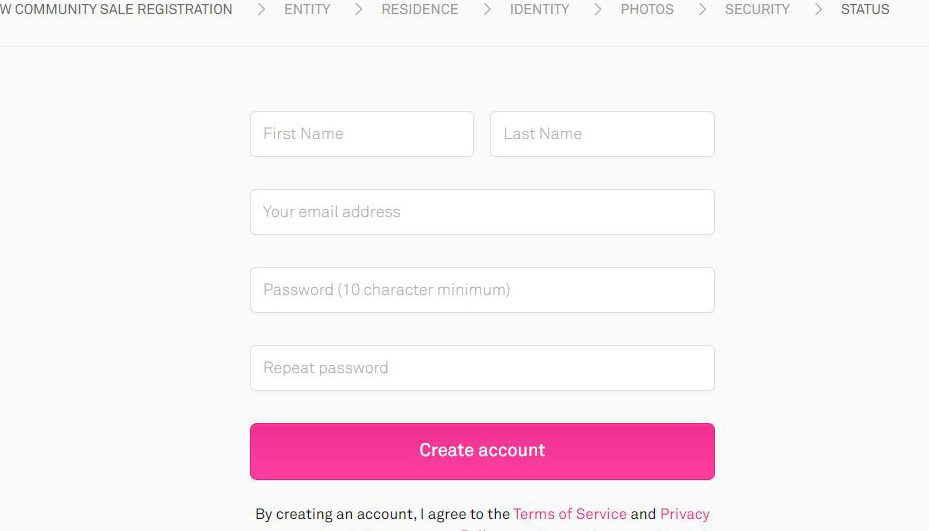 Step by Step procedure to buy Centrifuge token from CoinList
Once you create an account with CoinList. After that, you just need to follow the procedure. As you can see there are 5 steps to participate in Centrifuge CFG token community sale.
Entity – Getting the details about the project. How much you want to purchase and all about coins. Fund your wallet and you can use BTC, ETH, USDT, or USDC to purchase the Centrifuge tokens.
Residence – You can participate in any sale unless you are from US, Canada, Switzerland, South Korea or China.
Identity – It needs KYC, so here is identification. Submit your ID proof documents. It can be anything, your driving license, passport, or id proof with your address on it.
Photos – In this step, you have to capture yourself live with the identification proof that you have just submitted.
Security – The risk warning and funding your wallet.
Status – Now, everything is done and it is in progress. Once they deduct the funds you will now officially get the CFG token with respect to the price you choose from.
You will get your CFG tokens in your account once the sale period ends after the sale completed. If you have purchased from Option 1, you will get all your tokens in July 2021. If you choose Option 2, the tokens will be unlocked gradually on monthly basis for 2 years.
Key Takeaway
The centrifuge network token is a good project and the adaption is real. The project is created on a very unique structure and there is a lot of demand for this product. So, whatever you do, make sure you understand the risks. It is possible that it gets hacked and its price turned to around negligible or maybe go to the moon. So, do your own research as well instead of blindly following anyone.