Equilibrium is a DeFi 2.0 platform, and one-stop platform to earn, borrow, and trade at max efficiency and backed by top VC firms, including Genesis Block Ventures, KR1, Signum Capital, CMS holdings, DFG, and Hypersphere. The platform combines a money market with an order book DEX for the Polkadot ecosystem just like ApolloX Finance did for the BSC ecosystem.
As per Coindesk, Stablecoin issuer Equilibrium has self-funded a $17.5 million insurance policy for its EOSDT token. So, the platform is quite secure and insured. As such, Equilibrium's protocol allows;
Borrowing and trading with high leverage.
Borrowing with low collateral and margin requirements.
Borrowers to set interest on their loans.
High liquidity, thereby solving DeFi's chronic liquidity issues.
What is an Equilibrium EQ token?
EQ token is a core token for Equilibrium, enabling the community governance of Equilibrium. It can be used for transaction fees, product fees, and platform liquidity on Equilibrium. Based on the Polkadot system, it already won a Parachain slot.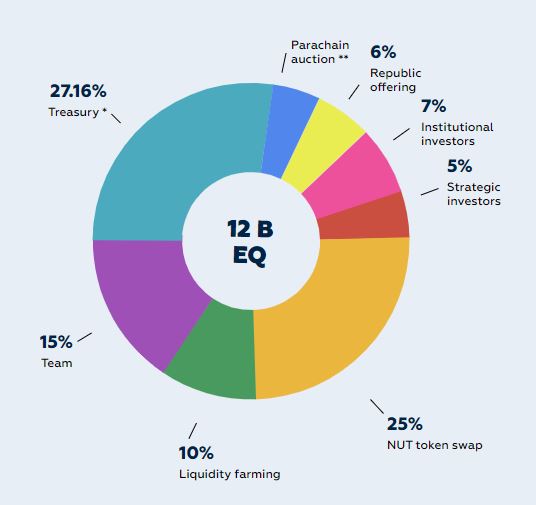 Equilibrium will be distributing over 75% of EQ tokens to be distributed to the public by the end of the first parachain lease on Polkadot. There will be a total supply of 12 Billions tokens of EQ ever exist. Equilibrium already has successful providing EOSDT which is a dollar-pegged currency that leverages underlying EOS and BTC collateral and adds extra liquidity to the market.
How to participate in EQ token ICO:
👇 Please follow the steps below to qualify for the $EQ offering
Step I: Preview $EQ on Republic https://rep.pub/eq-early-access
Step II: Sign up for a Republic account: https://republic.com/register
Step III: Verify your email and complete your KYC
Step IV: Create a Polkadot wallet such as the Talisman wallet here, or you can use a simple Polkadot.org wallet.
Once done, you need to simply pay for the allocation and you will receive all your EQ tokens in your Polkadot wallet. Here is a small video guide on how to buy an allocation on Republic in the Hindi language – https://www.youtube.com/watch?v=z1q7xtcertc
Equilibrium token sale ICO is live on Republic here.
Equilibrium ICO
Equilibrium ICO Price
As of now, the price of Equilibrium ICO has been decided and lies between $0.00625-$0.00825. EQ token price will be available on the offering page at the time of sale on Republic. As per the Republic, due to complex legal requirements, they will not be able to share the EQ token price with their users. Check the FAQs here.
EQ token Listing exchanges
As of now, no exchange has declared its listing to their exchanges. But it is expected to list on Hotbit, MXC, and Kucoin. Apart from that, no one has shown any interest or commented on Equilibrium listing on crypto exchanges.
EQ Development status
Equilibrium started its product development in February 2020. The orderbook DEX is ready and they are finishing things up. The DEX launch is planned after the sale on Republic in Q3.
How to buy EQ token
✍️ Sign up for your Republic account
✔ Verify your email
✅ Verify your identity
Set up your receiving wallet
For these offerings, you will only be able to use crypto as a payment method. Credit/debit card, wire, or bank transfer will not be accepted. Republic is integrated with a third-party provider, Bitpay, to facilitate crypto transactions. You do not need to create a Bitpay account in advance of the offering.