How to Sell cryptocurrency like BTC, USDT, ETH with P2P on Kucoin to your bank account
P2P which is Peer 2 Peer is now being the best way of trading to save yourself from getting tracked for any kind of crypto-related transactions. It will help you to save the small profits that you have after selling your tokens. P2P is fast and very much reliable if done from trusted sources like Binance, Kucoin, OKX, Huobi, Gate, or any other International exchanges. Here we will provide you with a step-by-step guide on how to buy or sell any crypto with P2P from Kucoin and withdraw it in FIAT directly to your bank account. P2P is untraceable to the banks/government, until or unless the data is shared by the cryptocurrency exchange itself. So, it is a good way to save your profits.
What is P2P?
P2P is Peer to Peer, which means a way to do direct transactions to a user's bank account and buy any crypto with it. The only role of the crypto exchange here is to check whether the transaction went smoothly or not. Here is a more descriptive guide on what is P2P and how it works with some visual examples. The majority of exchanges require users to complete KYC, so they can check with you in case of any disputes between trades. Usually, it includes stable coins like USDT and USDC but it is now moved to more popular cryptos as well like BTC, ETH, and LTC.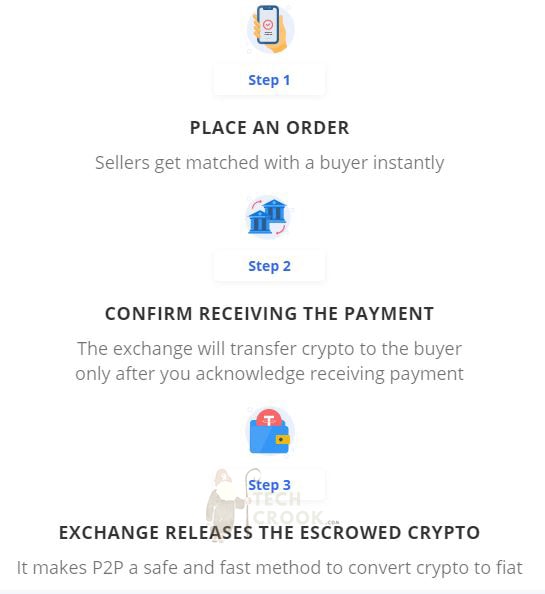 How does P2P work in Kucoin?
In Kucoin P2P, the user who is selling creates an advertisement mentioning the price he wants to sell its cryptos. The buyer then chooses the seller as per the price mentioned and do the payment directly to their bank accounts with IMPS, WIRE, Paypal, or with any wallets. Once the buyer selects the seller, the seller's USDT gets locked by the exchange, and as soon as the buyer does the payment, and the seller marked it as payment received, the locked tokens get transferred to the buyer's account.
If the buyer didn't pay in Kucoin P2P selling?
So, as a seller, you must be thinking, what if the buyer didn't pay the funds to your account and marked it payment completed to his end. At that point, the seller can create a dispute and the buyer has to provide proof of payment to the exchange support. As the seller's tokens are locked to the exchange, they will not release until the dispute is completed, or a seller marked it as Payment Received.
How to sell crypto (USDT, BTC) with Kucoin P2P?
Pre-Requirements to buy/sell crypto on Kucoin P2P
Let's first talk about how to sell your crypto with Kucoin P2P. To sell you have to first create an account on Kucoin. The second most important thing you need to do is to verify your profile by filling out and submitting the KYC. Once it gets verified you are ready to use Kucoin P2P. Have difficulties in registering or passing the KYC? Here is a video guide on how to register on Kucoin and fill a perfect KYC in Hindi.
How to Sell crypto on Kucoin P2P and withdraw money directly to your bank account step by step with example
So, we have completed the upper requirements to sell crypto like USDT, BTC, ETH, KCS, and USDC on Kucoin with P2P. Now, follow this below step-by-step tutorial to know how to sell your crypto and withdraw FIAT to your bank account.
Step I – Move over the Buy Crypto from Kucoin's top menu and Select P2P, just like given in the below image.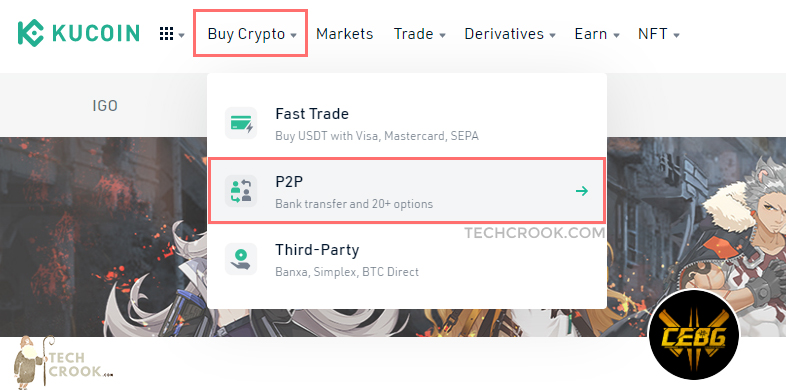 Step II – Choose a method of payment. This method of payment is the one where you select your preferred mode of payment. How do you like to get paid after selling the crypto using Kucoin P2P? So, from the left menu go to Payment Settings and click on ADD to add a new payment method. There are more than 20 payment methods available including Bank Transfers(IMPS, SEPA, UPI), Wallet transfers (PayTM, Whatsapp, LINE, Paypal, WebMoney, etc.)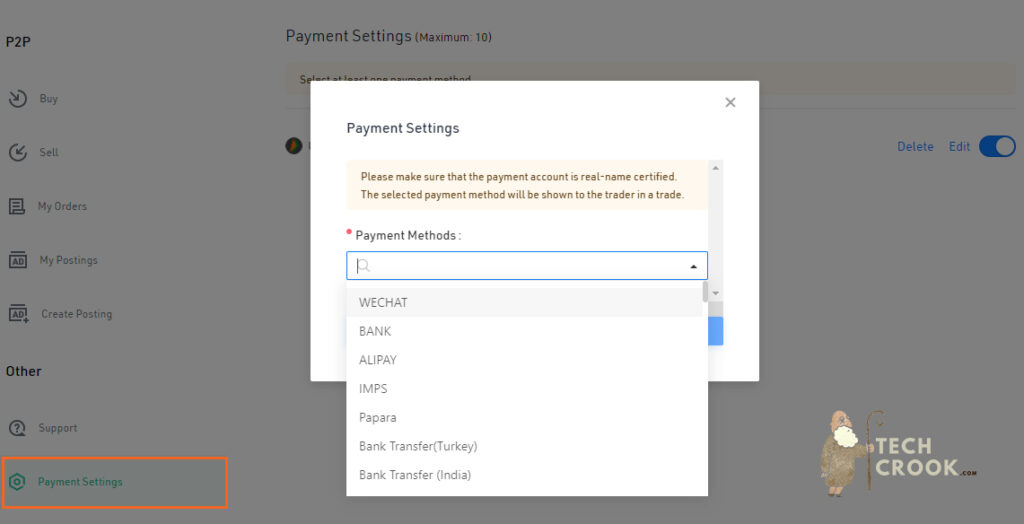 Step II – Now choose to sell from the left menu and from the top choose the crypto that you want to sell in Kucoin P2P.
Step III – Now, from the list of buyers that came through, choose the one who is paying the most for crypto and paying with your preferred mode of payment.
Step IV – Once selected, enter the amount you want to sell and your Kucoin Trading password for security purposes. At this point in time, the amount of funds you are selling will get locked at Kucoin.

Step V – Now, you will be redirected to the P2P trading order page, where you have to wait for your buyer to pay directly to your preferred mode of payment and be marked as complete. Now, you have to wait for that certain amount of time and once payment is done by the buyer, you have to check your bank account/wallet whether the amount is credited or not. If it is credited you will ask Kucoin to release your tokens to the buyers or else create a dispute. Creating a dispute as a seller means you didn't receive the payment or the buyer has done the partial payment.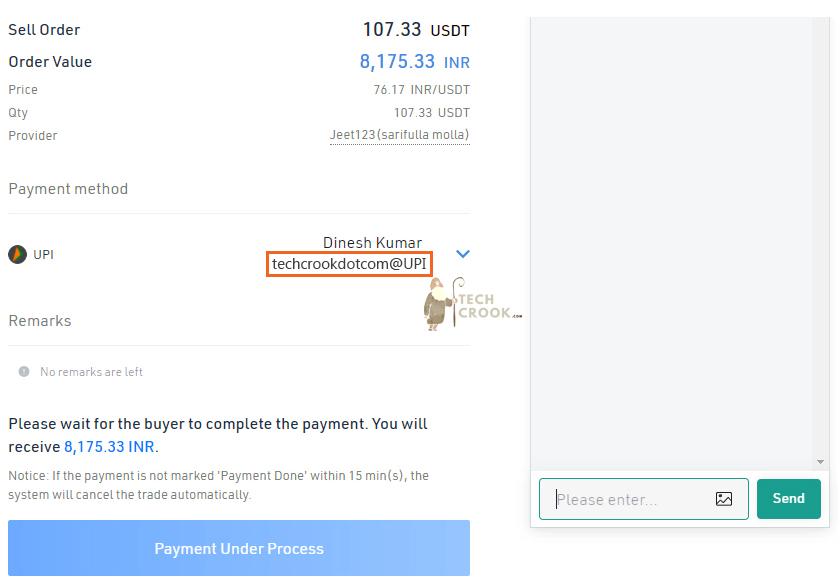 How to create a dispute or resolve a dispute in Kucoin P2P as a seller
Once you check your bank account and find out that the user hadn't paid and still marked the order as complete, you can raise a dispute. Once you have risen a dispute, the Kucoin support team will ask the buyer to show the proof of payment, failed to do so you will get your tokens back in your account and the buyer's account will get banned.
Step VI – Now once the payment is done by the buyer you will release your tokens to him within a certain amount of time, just by clicking a button. If you didn't click on release tokens yourself, it will ask the buyer for the proof of payment and after verifying, transfer the crypto to the buyer's account, considering the payment is completed.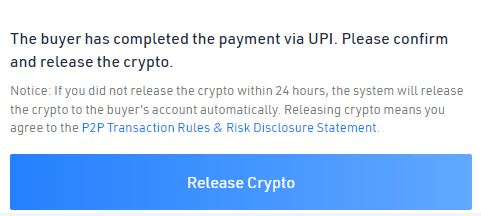 So, this is how you can sell your USDT, USDC, BTC, KCS, or ETH in Kucoin P2P and withdraw FIAT directly to your bank accounts.
Key Takeaway
P2P is a one-of-a-kind solution to make trackless crypto transactions directly to your bank account. Although logs are kept by exchanges and if asked they will have to provide those logs to any authority. Kucoin is one of the biggest exchanges providing P2P services just like Binance, OKX, Huobi, and Gate. This step-by-step guide tells you each and every step necessary to sell your tokens using P2P.