WazirX is an Indian cryptocurrency exchange that is recently acquired by cryptocurrency giant Binance. After this article, you will have successfully registered to WazirX and submitted your KYC for verification. Learn how to register and verify KYC in WazirX with this step-by-step guide. The KYC verification will take up to 3-7 working days to get verified. Once verified you are ready to trade cryptocurrencies like Bitcoin directly with your bank account or with mobile wallets like Paytm or UPI wallets like Google Pay.
WazirX is available for Indian users only but with its P2P feature they are also available for:
American Samoa, Angola, Bosnia and Herzegovina, British Indian Ocean Territory, Croatia, the Democratic Republic of the Congo, Eritrea, Ethiopia, Guinea-Bissau, Haiti, Iran, Iraq, Ivory Coast, Lebanon, Liberia, Libya, Macedonia, Mali, Montenegro, Netherlands Antilles, North Korea, Rwanda, Serbia, Serbia and Montenegro, Sierra Leone, Slovenia, Somalia, South Sudan, Sudan, Svalbard and Jan Mayen, United States, Western Sahara, Yemen, Zimbabwe
If you are in one of these countries and want to use WazirX for trading cryptocurrencies then this platform is for you with the best auto-matching P2P service. With P2P a user can transfer or withdraw money directly from the bank account to buy cryptocurrencies like bitcoin or sell to get money directly into a bank account.
How to Register on WazirX
Doesn't matter where are you from, if you are from one of these countries you can buy cryptocurrencies like Bitcoin from WazirX.
So, follow these step by step guide to know how to register on WazirX to buy cryptocurrencies like Bitcoin, Ethereum.
Step I – Go to WazirX.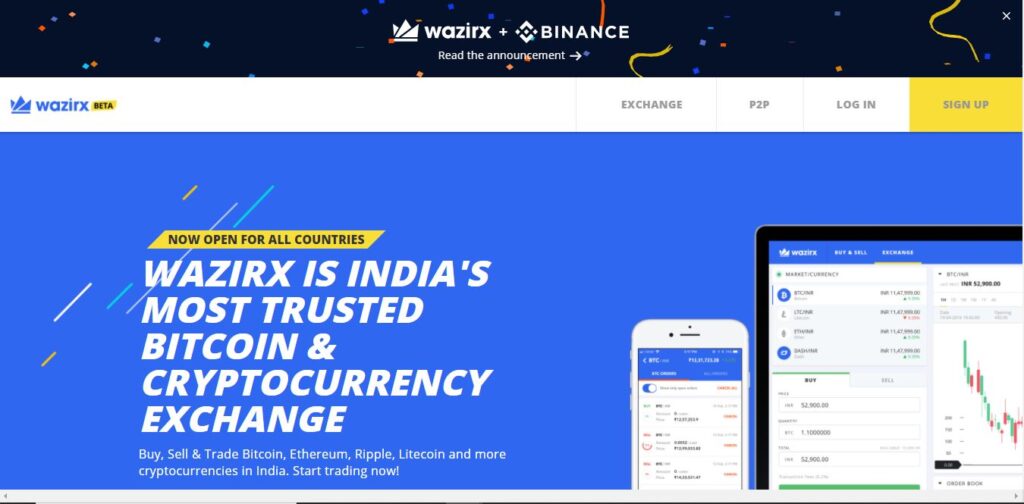 Step II – Click on Sign Up from top right, yellow button.
Step III – A sign-up form or WazirX Registration form will come up. Fill the form with your email id and a password. Password can be anything, I will recommend you to write it somewhere safe as well offline. Though you can restore it anytime with your email id in case you forgot.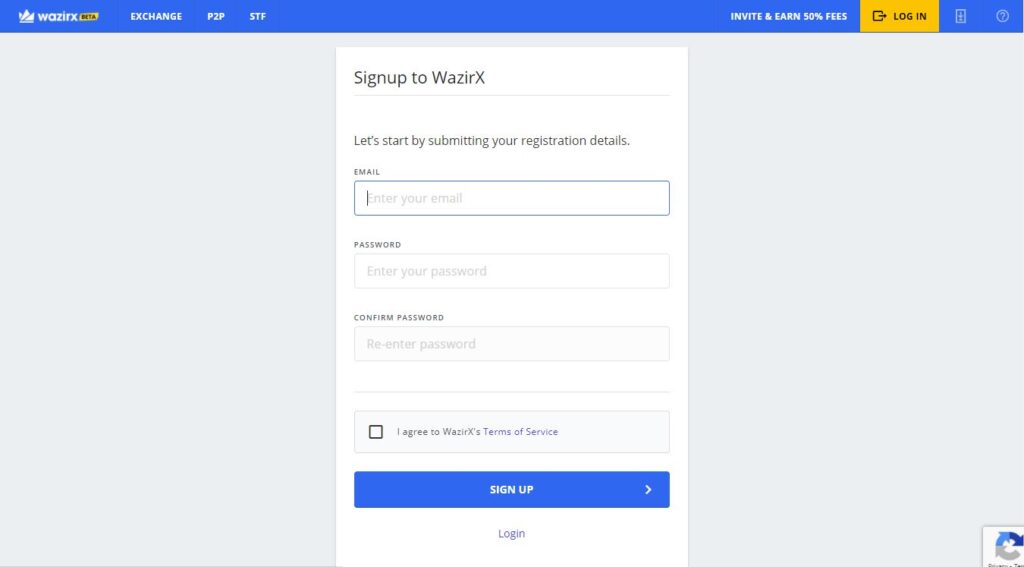 Enter your working email id. Enter a password in Password and then repeat that in confirm password. Click on the checkbox to agree with their terms and conditions. Then click on Sign up.
Step IV – Now, you have to confirm your registration. A mail will be sent from the WazirX team to your email account. Click on the blue button to verify your account.
How to submit and verify your KYC in WazirX
Now, it's time to fill in your KYC details. KYC is the Know Your Customer form which is necessary for any cryptocurrency exchange to track user investment. It's mandatory in the case of WazirX.
If you don't want to fill the KYC and still want to trade cryptocurrencies in India then you can use either Bitbns or CoinDCX.
Now, coming back to how to fill KYC in WazirX:
If you have successfully done the registration, you will see the below screen on WazirX.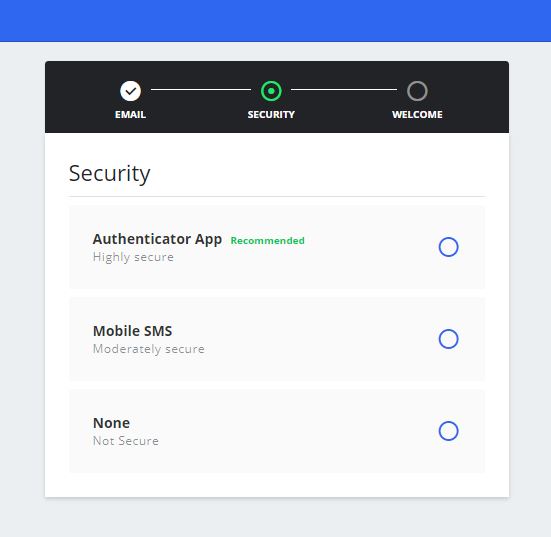 Now, it will ask you to Secure your account with one of the 3 measures. Let's understand what it is and how it works.
Authenticator App
Authenticator App is a way to secure your account with a 2FA pin which is needed every time you log in. For this, you need a mobile device with an app like Google Authenticator or Authy.
How to Enable Authenticator App in WazirX
First, you need to download the Google Authenticator app on your mobile device. Now, click on the Authenticator app option on WazirX which will show a QR code. Now, use the Google Authenticator app and click on the "+" icon to scan this code. Once you scan, it will start showing you a randomly generated number for the next 30 seconds.
How Authenticator App works in WazirX
Authenticator app will generate a random code in every 30 second. So, next time you login on WazirX with password it will ask user for the OTP that is being generated on Authenticator app. That adds an extra layer of security, which means you reduced the chances of hacking by 90%.
Mobile SMS
An OTP is sent every time you login. You won't be able to login without your password and OTP that's sent to your registered mobile number.
None
You are your own. Anyone with your password can login to your account and access your funds.
Now you have selected you reached to Welcome milestone. Now, your KYC details need to be filled in. If you will select Without KYC you just will be able to Deposit and Trade cryptocurrencies and can't do a single transaction to or fro bank accounts. While with KYC, you can one-click bank transfers to buy cryptocurrencies.
Click on "Complete KYC".
A new form will pop up asking for your details. Fill them correctly, as these got verified with your national ids like Aadhar card and PAN card or with a driving license that you need to upload in the next steps.

As soon as you click Submit & Continue, it will ask you to verify your mobile number and email id. Once done, then it will ask you to add your PAN card and national id proof like an Aadhar card if you are in India. After that, it will ask you to add Bank account details for transactions. Depending on the country you've chosen, you'll need to upload a set of KYC documents. Carefully fill in the details in the respective fields & upload a scanned copy or a photo of your KYC document & your selfie as illustrated in the Sign-Up form.
What will happen after you submit KYC in WazirX
Now, submit your KYC and the WazirX team will respond to you if there is any issue with KYC. If everything is clear, you will get an email that you are verified and you are ready to use a bank account to purchase or sell 60+ cryptocurrencies like Bitcoin, Litecoin.
I will also recommend you to join Binance later and connect with WazirX to use all features of Binance in one click. The good thing is, you don't have to fill the KYC in Binance. Just register on Binance with this link or use this code in referral id MRTPWY0M to get additional 10% trading fees discounts for a lifetime. Here is a guide to know how to register, buy, sell, deposit, and withdraw in Binance.
Conclusion
Registering and filling KYC in WazirX is a one-time task that is necessary to use the WazirX platform and access its full features. WazirX is a full-fledged crypto trading platform with basic features that is suitable for trading with FIAT and holding. By connecting WazirX with Binance you can use a tonne of other features that Binance provides.