How and Where to buy Braintrust Token (BTRST) from Presale/ICO from Coinlist
Braintrust is the first decentralized talent network. Braintrust connects skilled technical freelancers from the biggest MNC to small startups. The platform is based on Ethereum's zero-knowledge rollup (zk-rollup). Braintrust is live, and hundreds of Fortune 1000 enterprises including Nestle, Porsche, Atlassian, Goldman Sachs, and Nike processing millions of dollars in transactions each month. The major investor is Coinbase Ventures, Pantera. Braintrust token sale will occur on Coinlist from September 9, 2021. Here is a step-by-step guide on how and where to buy Braintrust (BTRST) tokens ICO from Coinlist. Here is a step-by-step video guide in the Hindi language how to buy Brainstrust BTRST ICO from Coinlist.
You can buy BTRST tokens from Coinbase. BTRST tokens are also listed on Hotbit exchange, MXC, and oKEX where you can buy IMX tokens without KYC. This ICO is expected to give 8-100x.
It is very difficult to find potential ICOs nowadays. So, we have created an individual page, where we share potential ICOs, you can check out the upcoming potential ICOs from this page.
What is Braintrust BTRST Token?
Braintrust token is created on Ethereum zk-rollup to bring 0% gas fees in minting and trading. Though there will be some fees that will be taken by the BTRST platform.
BTRST token will be used for Governance, Bid staking, and for career benefits. Users can use the BTRST token and use to purchase courses on Brainstrust Academy. Bid staking is quite a new concept and it is going to be huge in this industry. And with governance, the holders have the power to choose the features, create new proposals.
Note: The token is now launched and you can buy Braintrust tokens from Coinbase, Hotbit, MXC, and later on Coinlist Pro.
Braintrust BTRST Token Public Sale ICO
The Braintrust Community public sale allows the community to purchase up to $500 worth of BRTST tokens. The user will be able to buy BTRST tokens from Coinlist at $0.96 and $0.66 per coin.
Braintrust token Sale date on Coinlist: 09/09/2021 at 17:00 UTC and 09/09/2021 at 19:00 UTC
Eligibility: Not for USA, Canada, and China individuals
Braintrust token total supply: 20,000,000 BTRST
Braintrust token ICO's available for sale on Coinlist: 1,000,000
Minimum Purchase limit: $100
Maximum Purchase limit: $500
Official website: https://usebraintrust.com
Brainstrust Token Whitepaper: Whitepaper
You can buy Braintrust from Coinlist with BTC, ETH, USDC, and USDT. Please follow the step-by-step guide on how to buy the BTRST token mentioned below.
As the token sale is already completed you can buy the tokens from Coinbase and Hotbit.
Why Braintrust token ICO sale is a good investment?
This is the first talent platform that is working with Nike and major Fortune 1000 big MNCs. The platform is already launched and live.
Looking at its supply the ICO price looks a little overpriced. But looking at the circulating supply it has a lot of room to grow and we can expect about 5-10x of profits just after launch. And for those who want to invest long term, they can expect 8-12x in the next 1-2 years. For more such upcoming potential ICOs join us at our ICO page.
Who invested in Braintrust Token?
Braintrust completed several round of private fundraising with investors like Coinbase Ventures, TigerGlobal, Pantera, Hashkey and several others. Apart from that, they are expected to raise another $800k with this public funding on Coinlist.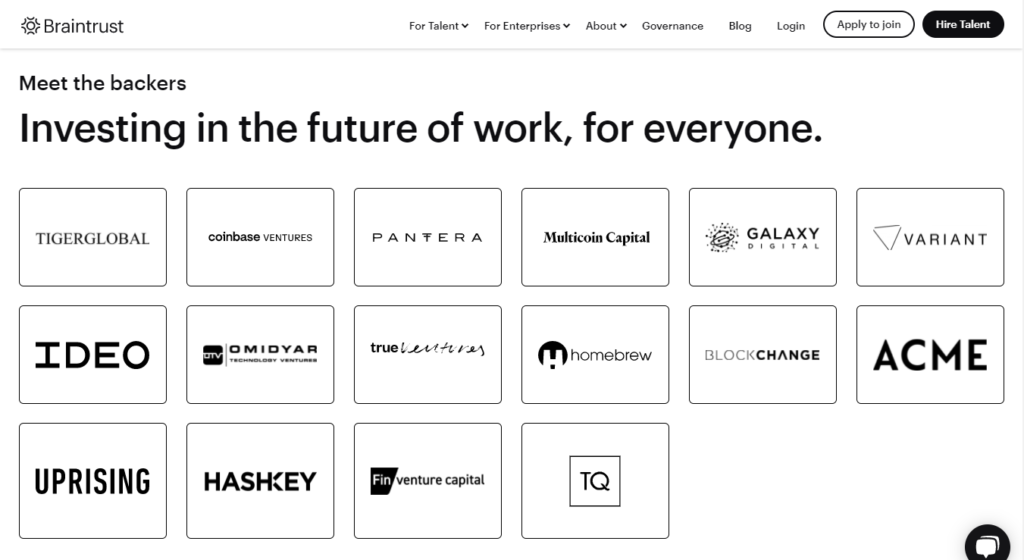 How to buy Braintrust BTRST Tokens from CoinList?
Click this link to register yourself to CoinList for buying Braintrust BTRST Tokens. On clicking the link you will see the screen something like below: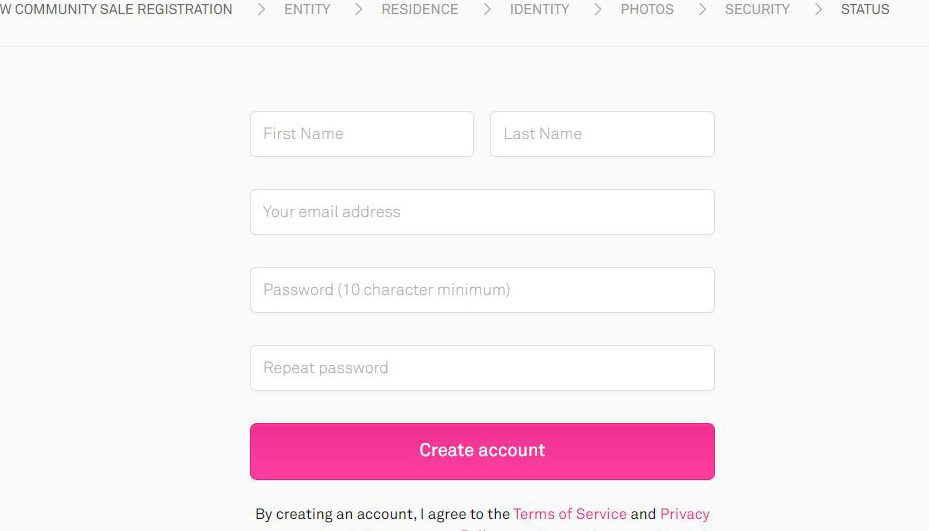 Step by Step guide to buy BTRST token from CoinList
Once you create an account with CoinList. After that, you just need to follow the procedure. As you can see there are 5 steps to participate in the Braintrust token community sale.
Entity – Getting the details about the project. How much you want to purchase and all about coins. Fund your wallet and you can use BTC, ETH, USDT, or USDC to purchase the Brainstrust BTRST tokens.
Residence – You can participate in any sale unless you are from the US, Canada, or China.
Identity – It needs KYC, so here is identification. Submit your ID proof documents. It can be anything, your driving license, passport, or id proof with your address on it.
Photos – In this step, you have to capture yourself live with the identification proof that you have just submitted.
Security – The risk warning and funding your wallet.
Status – It represents that you have completed the form and shows the status of your purchase. Once they deduct the funds you will now officially get the BTRST token as per their release schedule.
You will get your BTRST tokens in your account once the sale period ends after the sale is completed. IMX tokens will be released and will be in your Coinlist account on October 16, 2021. Later which you can sell it get listed on Coinlist Pro, Coinbase, and Hotbit.
Learn how to buy Braintrust token from Coinlist ICO in Hindi –
Key Takeaway
The Brainstrust token is a good project and the hype is real, several designers and buyers are already there and working for bigger MNCs. From this buying guide, you can buy Braintrust tokens in ICO which is a good deal and we know it's going to jump higher. There is always a possibility that the platform gets hacked and its price turned to around negligible or maybe go to the moon. So, do your own research as well instead of blindly following anyone.
Note: The token is now launched and you can buy Braintrust tokens from Coinbase, Hotbit, MXC, and later on Coinlist Pro.
Tagged:
Brainstrust token ICO
BTRST token sale
Coinlist ICO
how to buy braintrust token
usebraintrust token
what is braintrust token
where to buy braintrust token