How and Where to buy NYM Token (NYM) from Presale/ICO from Coinlist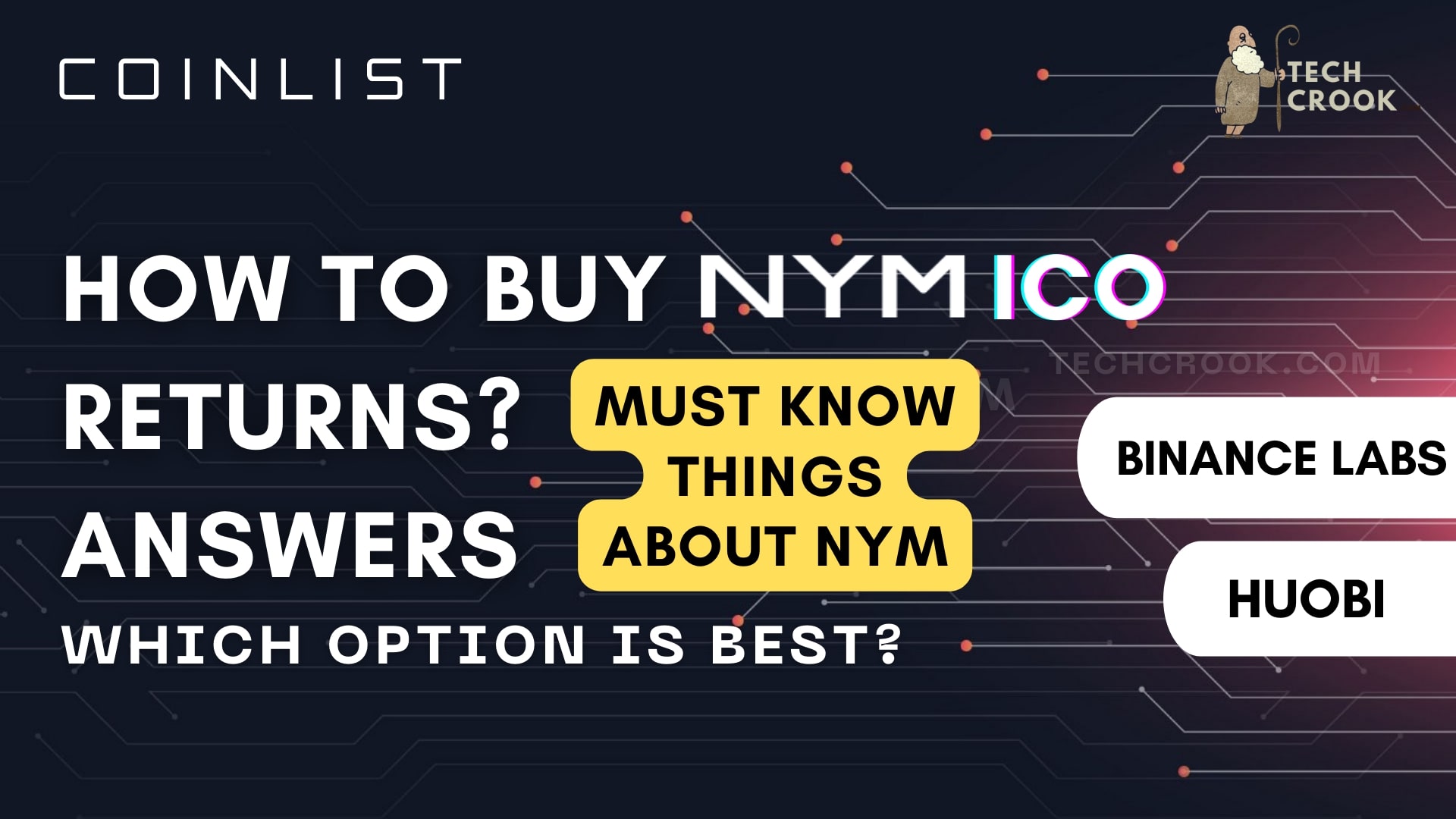 NYM is an anonymous browser like Tor which lets you access the internet anonymously. NYM is a multi-chain token, minted on Nym's internal blockchain Nyx, with bridges to other chains like Liquid and Ethereum. The major investors are Hashkey, Binance Labs, Huobi Ventures, Pantera, and several others. NYM token sale will occur on Coinlist on February 9, 2022. Here is the step-by-step guide on how and where to buy NYM tokens ICO from Coinlist. Here is a step-by-step video guide in the Hindi language on how to buy Nymtech NYM token ICO from Coinlist.
NYM token sale is completed and now you can buy NYM from Coinlist Pro, Gate.io, OKX, Huobi and Kucoin. As per our analysis, NYM token ICO was expected to give 5-10x and NYM ATH was $4.9. Our users bought at $0.25 and $0.5 which means 20x profit for Option 1 ICO buyers and 10x to Option 2 ICO buyers.
It is very difficult to find potential ICOs nowadays. So, we have created an individual page, where we share potential ICOs, you can check out the upcoming potential ICOs from this page.
What is NYM and NYM Token?
Putting it simply, it is a browser with extended privacy. Unlike the Tor browser, it is not centralized but works on decentralized networks. Nym protects against even the most powerful network adversaries that can observe every packet going in and out of your internet connection. With Nym, you can use the internet without fear of being watched. There are a lot of privacy concerns these days government watching you and all. We as internet users get recognized with our IP address with which anyone can track your web data.
The Nym TOKEN (NYM) incentivizes privacy and is used to make mixnet decentralized, sustainable and resilient. Option 1 allows immediate usage of the Nym mixnet and is compatible with tokenization standards such as Liquid Confidential Assets and ERC-20. Option 2 provides tokens on the Cosmos-enabled Nyx platform that are not immediately liquid but allow buyers to easily run mix-nodes and collect rewards for mixing traffic, including with locked tokens.
NYM Token Public Sale ICO
The NYM Community public sale allows the community to purchase up to $500 worth of NYM tokens. The user will be able to buy NYM tokens from Coinlist at $0.5 and $0.25 per coin. You can buy it from Coinlist.
NYM token Sale date on Coinlist: 02/09/2022 at 18:00 UTC and 02/09/2022 at 23:00 UTC
Eligibility: Not for USA, Canada, and China individuals
NYM token total supply: 150,000,000 NYM
NYM token ICO's available for sale on Coinlist: 75,000,000
Minimum Purchase limit: $100
Maximum Purchase limit: $1000
Official website: https://nymtech.net/
NYM Token Whitepaper: Whitepaper
You can buy NYM tokens from Coinlist with BTC, ETH, USDC, ALGO, SOL, and USDT. Please follow the step-by-step guide on how to buy the NYMtoken mentioned below.
The token sale is only available on Coinlist so don't follow any other source.
Why NYM token ICO sale is a good investment?
NYM has already raised $13M from several top venture funds. NYM token product is live and available for testnet. The testnet is now even bigger than the Tor browser.
Looking at its supply the ICO price looks a little undervalued. Looking at the circulating supply it has a lot of room to grow but more than 58% of supply is given to Backers and Team. As more than 50% of the token is in the hand of the backers and team, it is quite possible on every distribution it is going to dump very hard. We can expect about 4-8x of profits just after launch. And for those who want to invest long term, I will recommend not to. For more such upcoming potential ICOs join us at our ICO page.
Who invested in NYM Token?
NYM token completed several rounds of private fundraising with investors like Hashkey, Binance Labs, Pantera, Huobi, and several others. They have raised $13m through these investors. Apart from that, they are expected to raise another $30m with this public funding on Coinlist.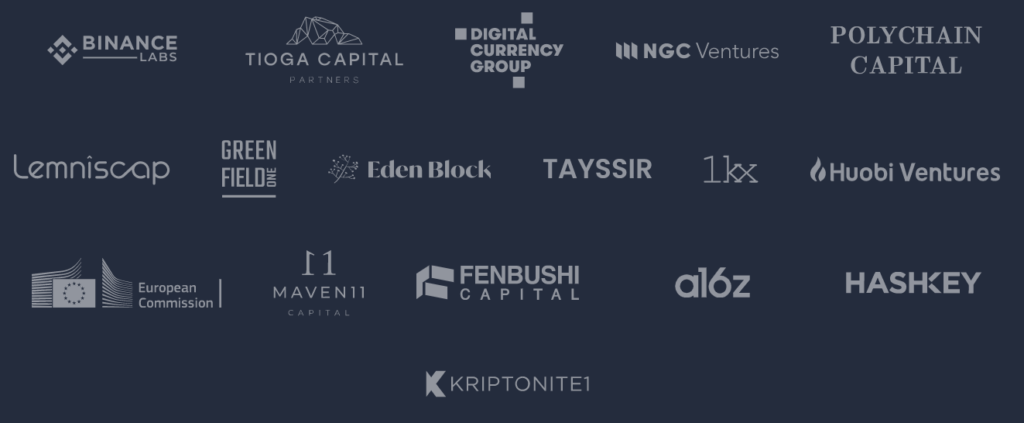 How to get into Coinlist NYM token Priority Queue?
As we all know, the Coinlist also provides guaranteed allocation to the users who participate through the priority queue. To get into Coinlist priority queue you have to do certain tasks which increases your Karma points. These karma points can get into the Coinlist priority queue.
Although, you can also get into the priority queue from the project side. This is how you can get into Coinlist NYM token priority queue from the NYM side. There is a 10-50% chance, that you will get into the NYM priority queue. So, what you need to do is, register for their newsletter, and get inside their testnet.
Use the same email id that you have used to register on coinlist so they can track you.
How to buy NYM Tokens from CoinList?
Click this link to register yourself to CoinList for buying NYM Tokens. On clicking the link you will see the screen something like below: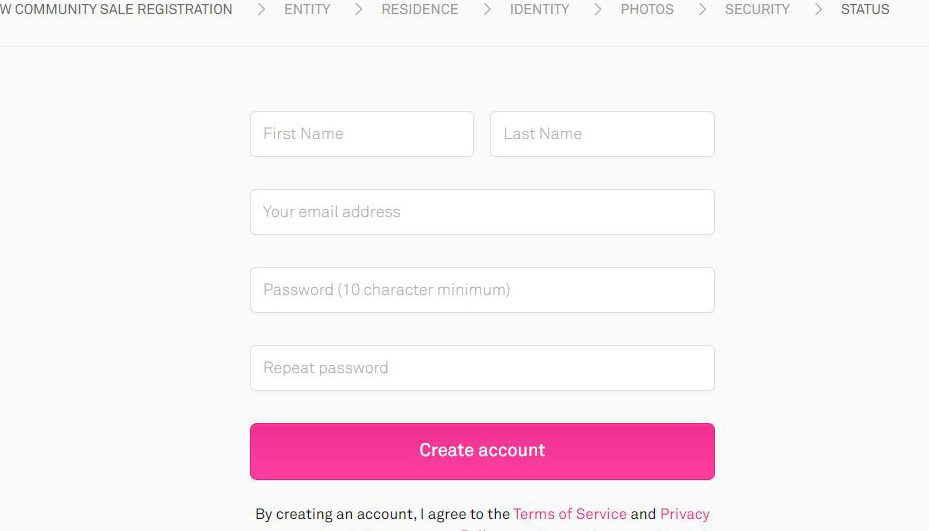 Step by Step guide to buy NYM token from CoinList
Once you create an account with CoinList. After that, you just need to follow the procedure. As you can see there are 5 steps to participate in the NYM token community sale.
Entity – Getting the details about the project. How much you want to purchase and all about coins. Fund your wallet and you can use BTC, ETH, USDT, ALGO, SOL or USDC to purchase the NYM tokens.
Residence – You can participate in any sale unless you are from the US, Canada, or China.
Identity – It needs KYC, so here is identification. Submit your ID proof documents. It can be anything, your driving license, passport, or id proof with your address on it.
Photos – In this step, you have to capture yourself live with the identification proof that you have just submitted.
Security – You have to accept the risk warning and funding your wallet.
Status – It represents that you have completed the form and shows the status of your purchase. Once they deduct the funds you will now officially get the NYM token as per their release schedule.
You will get your NYM tokens in your account once the sale period ends after the sale is completed. NYM tokens will be released and will be in your Coinlist account on March 31, 2022 and for Option 2 users May 31, 2022. Later which you can sell it get listed on Coinlist Pro, Coinbase, and Hotbit.
Learn how to buy NYM token from Coinlist ICO in Hindi –
Key Takeaway
The NYM token is a good project and the hype is too much. From this buying guide, you can buy NYM tokens in ICO which is a good deal and we know it's going to jump higher especially for Option 1 sale. There is always a possibility that the platform gets hacked and its price turned to around negligible or maybe go to the moon. Therefore, do your own research as well instead of blindly following anyone.