Clover Finance (CLV) is built over Substrate is able to leverage the extensive functionalities that Substrate provides out-of-the-box, rather than needing to build them from scratch. Clover provides peer-to-peer networking, consensus mechanisms, governance functionality, EVM implementation, and more. Clover is going to launch with a presale from April 20 on Coinlist. To know how and where to buy Clover (CLV) tokens follow the below step-by-step tutorial.
Clover token sale is now over and its soon going to list on exchanges like Bilaxy, Huobi, and Coinlist Pro, if you want to invest in other potential ICOs, you can check out the upcoming potential ICOs from this page. Another project Efinity token developed by Enjin, ICO is going on, here is a step-by-step guide on how and where to buy Efinity tokens.
What is Clover(CLV) Token?
Clover is a Substrate-based DeFi service platform built on Polkadot. CLV is the native token to the Clover and will be used for Governance, use to pay gas fees, validate the network, staking rewards, using CLV to deploy smart contracts and dApps on Clover. It will also be used to fund the new projects with treasury.
The CLV token will be available only through CoinList for the initial public token sale. Once CLV lockup periods end, we anticipate the token to be available through other platforms per jurisdiction compliance.
Who Invested in Clover Tokens (CLV)?
Clover raised funding from seed round, led by Polychain Capital, Hypersphere, Bithumb Global, and Divergence Ventures, and afterward, major giants invested. Clover recently announced its partnership with The Graph in early March 2021.
Clover CLV token Sale Details
The Clover Token Community sale allows the community to purchase CLV tokens for up to $1 million. The user will get CLV tokens at a pre-launch price of $0.2 – $0.35 per token. There is no limit to the users who can buy the CLV token.
Sale Period: 04/20/2021 at 17:00 UTC – 04/24/2021 at 00:00 UTC
Eligibility: Non-US persons and Non-Canadian only
Minimum Purchase limit: $100
Maximum Purchase limit: $200,000
Official website: https://clover.finance/
The buyer do have three options for investment in Clover token sale:
Clover Token Sale Option 1: $0.2 per token with a 12-month lockup
Clover Token Sale Option 2: $0.29 per token with a 6-month lockup
Clover Token Sale Option 3: $0.35 per token with no lockup, after-sale you will get the coins in your account within 40 days.
You can participate in Clover token community sales from here.
Where to buy Clover tokens/ CLV tokens?
Clover token has already got Series A funding of $14 Million and opening a public ICO for others. The Clover Token, CLV token presale, or ICO will start on April 20, 2021. You can buy CLV tokens from Coinlist.
Coinlist is a platform for high-rated ICOs. We did saw how FLOW, ROSE, NEAR, CELO, SOLANA, and other highly rated ICOs are successfully done here. Becoming an early adopter is always way more profitable than taking risks later. We did saw how 0.1$ FLOW tokens are now worth $33 at the time of writing this article.
Register yourself on CoinList to buy CLV tokens with this link to get an extra $10 when you trade $100 worth of any cryptocurrency.
If you want to enjoy the early investor benefits, then also register yourself with Hotbit exchange. As they list each and every coin as early as possible which also gives an early adopter advantage. They currently have around 2500 cryptocurrencies listed.
How to buy Clover tokens in presale with CoinList?
You can buy Clover tokens from Coinlist in presale. Follow this step-by-step guide and participate in Clover token ICO to buy CSPR tokens:
Step I: Register and get KYC verified on CoinList (Use this link to get $10 when you trade $100).
If you face any problem in registering and KYC verified with Coinlist, check out our step-by-step guide here.
Step II: As mentioned earlier there are three options to participate in Clover token sale.
Option 1: $0.20 per token with a 12-month lockup
Option 2: $0.29 per token with a 6-month lockup
Option 3: $0.35 per token with no lockup, after-sale you will get the coins in your account
You can choose any of them and get ready with a minimum of $100 in your wallet.
Option 1
Option 2
Option 3
Sale Dates
April 20-24, 2021
April 21-24, 2021
April 21-24, 2021
Lockup
12 months
6 months
40-days trading
Release
04/24/2022
10/24/2021
04/24/2021
Purchase Limits
$100 min
$1000 max
$20K min
$200K max
$100 min
$2000 max
Num of Tokens
75M
40M
35M
Price per Token
$0.20
$0.29
$0.35
% of Total Supply
7.5%
4.0%
3.5%
Clover Token ICO offerings
Once you have chosen an Option, now you can register for that version of the sale. If you are KYC verified it will just ask for your name and the country you reside in.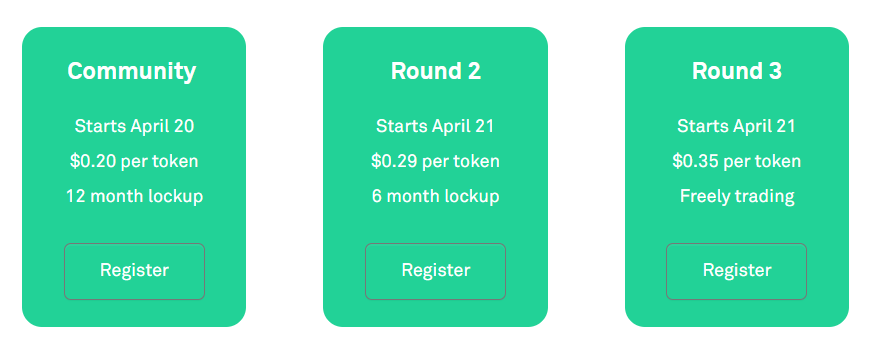 Once completed, you now have to wait for sale to get started. Till then, be ready with your funds.
What I will recommend to deposit your funds to your CoinList wallet and convert it to USDC till the sale starts and get your KYC verified earlier on. As KYC will take 3 – 5 days to get verified.
Still confused? Here is a step-by-step video guide in Hindi.
Key Takeaway
To buy Clover token in ICO with Coinlist, get yourself registered and KYC verified as early as possible. The Clover has already partnered with a good number of organizations and expected to be a good investment. Though, it is always recommended to do your own research before spending your hard-earned money.