You want to invest in cryptocurrencies like Bitcoin but you don't want to put your money into it. It's okay, there are actually some ways to earn bitcoins for free online genuinely. Of course, they don't just give you free but still, it is free.
There are several sites that let you earn bitcoins online or you can say earn satoshis online for free. You can earn in the form of Satoshi. If you want to know what is Satoshi, it is a fraction of Bitcoin.
1 Bitcoin = 100,000,000 Satoshi
So, How to get bitcoin for free?
There are some sites that let you play games or mine just from browser and let you earn cryptocurrencies like Bitcoin, Litecoin, Bitcoin cash or Dogecoin for free which you can later trade on Coinbase or Binance.
Here is a brief and basic guide on how to use Binance.
Moon bitcoin gives you satoshis while you are sleeping. You can mine satoshi using your browser. You have to register in the moon bitcoin and open it in your browser. It will use your CPU's un-utilized power to mine satoshi and you can claim it anytime you want. You can also play some games like Multiplier to multiply. Though, I highly not recommend you to do play that multiplier as the chances to lose is much higher than win.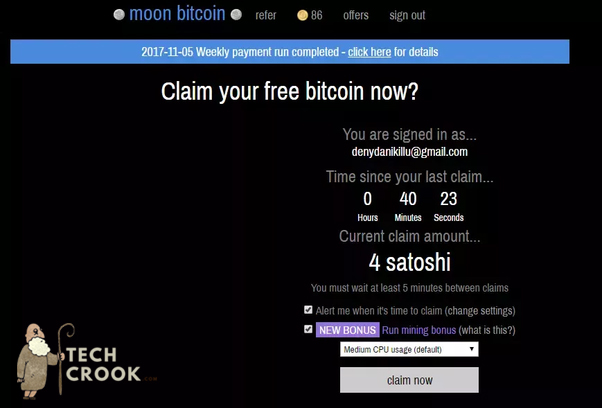 But the mining on this site is really legit and you earn a lot, you just have to open the browser and claim satoshis at the end of the day. If you are a regular laptop user who just uses excel sheets all day, making PowerPoint presentations or simply browsing, this is for you. Just open it up in a single tab and it will keep running. You have to click the checkbox run mining bonus and start getting extra satoshi for that too. That's how you will get bitcoin for free from moon bitcoin.

You can:
Earn with mining using browser.
Earn BTC by playing games
Earn BTC by playing lotteries
It pays you directly into your coinpot wallet so you can withdraw from it anytime you want. Just do your work and earn in the background. Its a good deal.
You can also use this luck-based website which lets you earn bitcoin for free. You have to register on Freebitco.in and roll a dice. It let you roll a dice every hour and lucky numbers will get up to 0.0234 BTC. Though, I have never heard anyone getting that amount of BTC will rolling dice on freebitco itself but you sure will get 0.00000028 BTC per hour. This is what I am using early when I wasn't investing in cryptocurrencies. Rolling a dice per hour is pain. Now, they also started betting on events like on cricket, football matches, if you are right you will get some satoshis.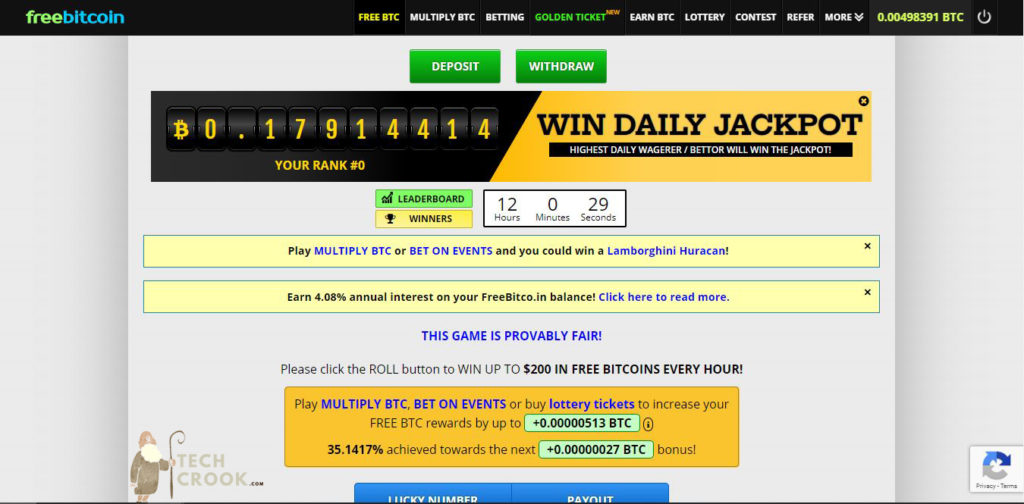 You can:
Earn bitcoins betting on events like Presidential Elections, expected bitcoin pricing, cricket and football matches
Earn bitcoins by playing games
Earning bitcoin for free using lotteries
Freebitco is also one of the oldest websites giving free bitcoins for playing games and have a good reputation in this field. It also gave a 4% interest on storing your bitcoins yearly. So, it's a win-win.
Conclusion
So, we discussed two websites MoonBitcoin and Freebitco that are providing free bitcoins on doing some easy stuff like playing games or just by opening a tab in a browser. I have mentioned the only reliable and popular ones so as to get away from any unknown frauds.