How to Register and Verify KYC in Huobi step by step tutorial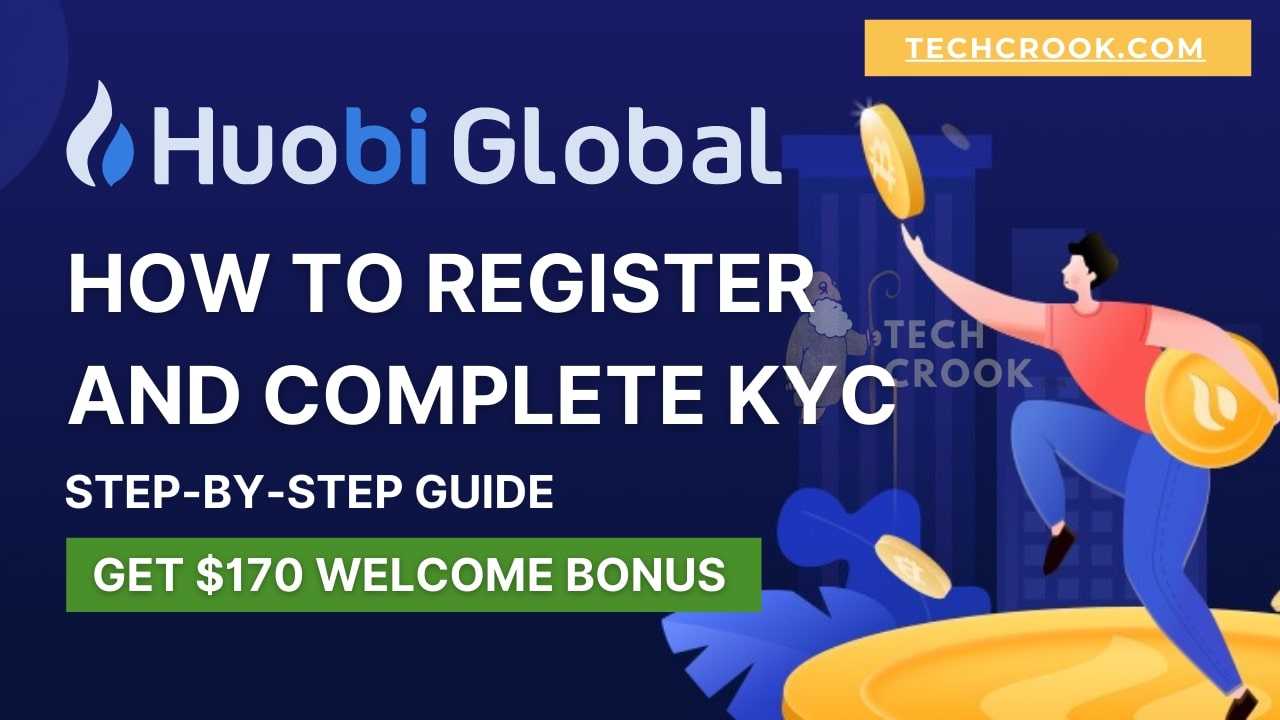 Huobi Global is an International cryptocurrency exchange and the biggest competitor of Binance. After this step-by-step tutorial, you will know how to register and submit KYC in the Huobi exchange. The KYC will take up to 2-3 days to get verified. Though, even after your KYC in Huobi gets completed you can use Huobi to buy or sell cryptocurrencies like Bitcoin, Ethereum, Ripple with INR using P2P only. Huobi is the biggest cryptocurrency exchange
Note: If you are in India, I will recommend using either Bitbns or WazirX to buy bitcoin in India with INR and then transfer it to Huobi to use Huobi's additional features.
How to Register on Huobi Global
Registering on Huobi Global is a very easy process. Though, it is advised to register with someone's invitation code for additional benefits. You can use this link to register on Huobi Global to get up to a $170 welcome bonus when you complete certain tasks. The tasks will be like completing the KYC, making the first deposit, making the first purchase, and something like that.
Here is a step by step guide on how to register on Huobi Global.
Step I – Click this link and sign up on the page either with your email id or phone number.
Step II – Once you click sign up button, an OTP will be sent you to your mail id or phone. Submit that OTP and now you are successfully registered on Huobi Global.
Why KYC/Identification needed in Huobi Global
Huobi Global works even without KYC but with limited functionality. Without KYC you can simply trade cryptocurrencies with other cryptos. You are allowed to deposit and withdraw cryptocurrencies freely. Apart from that to access all the other functionalities like P2P, Buying crypto with FIAT, Huobi Futures you have to fill and submit the KYC.
Step-by-step guide on how to complete KYC in Huobi Global
As mentioned earlier, to access Huobi's all features you need to complete and submit KYC. As soon as it gets verified from the Huobi support you will access all of the Huobi's features including Huobi Earn, Futures, P2P, C2C, Buy with FIAT, etc.
I will recommend you to go through this guide to learn how futures platform works and best cryptocurrency futures platform available with or without KYC.
To fill KYC in Huobi follow this step-by-step guide:
Step I – To complete KYC in Huobi, you need to complete your identification. Click on the identification just like shown in the below image.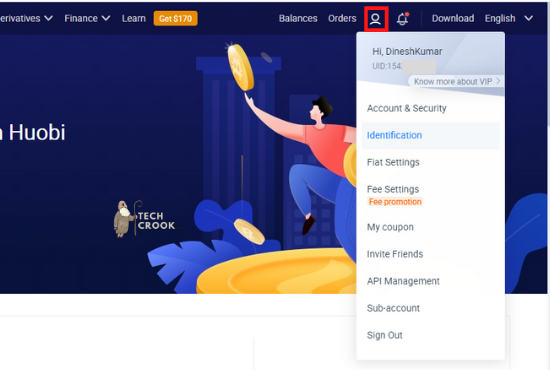 Step II – Now, it will ask for the name, make sure to give the exact name what is in your id proof.
Step III – You also have to submit an image of id proof. If you submit a passport or driving license then you are good to go and it gets verified instantly. But apart from that id proofs, if you have any national id you can also use that, but it may create a little delay or may not be verified.
Step IV – Submit the KYC and wait for their mail. If there are any issues with your KYC they will mail you to resubmit. If not they notify you that your Huobi KYC is verified and now you can use all the functionality including buying cryptocurrency with FIAT.
After successfully completing the KYC in Huobi, you can use P2P in Huobi Global, can use their Futures platform(Check out best cryptocurrency platform available to get max profits), and Huobi Earn.
Why KYC/Identification failed in Huobi
There are chances that KYC verification failed in Huobi. That's either because of one of the following scenarios:
When you have used id proofs other than passport or driving license.
The data you provided doesn't match with the data in the id proof provided.
When the id proof image is not complete image showing all four corners.
Whatever will be the issue, an email will notify the issue and you have the chance to resubmit the KYC. While resubmitting, make sure to follow all the instructions completely.
What if Huobi doesn't support your national id
Huobi usually supports all the national ids, but the ids that don't have user images, date of birth, and addresses in English are simply get rejected. Though, it is always recommended to use a passport or driving license to get verified instantly. Make sure the image that you capture is clear so you can see the text and image showing all four corners.
Key Takeaway
Huobi Global is one of the greatest exchanges with all the features that Binance has. Huobi is a Seychelles-based cryptocurrency exchange. Founded in China, it continues to operate as a blockchain consulting and research platform as well. You can register and complete KYC in Huobi to participate in their new token pools, use their futures, earn platform. You can use this link to register on Huobi to get up to $170 as a welcome bonus.