Wing Finance is a DeFi platform that lets you stake your stablecoins to farm WING tokens. Created by Ontology Network(ONT) team. It will also be going to launch an asset lending market and also support cross-chain collaborative interaction between other DeFi products. In addition, Wing innovatively showcases a credit evaluation module as a strong example of credit-based DeFi.
Similar to Bella Finance, which is created by the ARPA team, WING also let users to farm WING tokens by staking ONT, BNB, and BUSD on Binance. You can though, also buy WING token from Hotbit Exchange. Hotbit recently announced that it will list WING token with the symbol name WING1 as it already had a coin named WING(Wingshop).
What is Wing Finance?
Wing Finance is an "A Credit-based, Cross-chain DeFi Platform" built on Ontology. You can either stake your ONT, BUSD, and BNB tokens to get WING tokens on Binance or you can just buy it from Hotbit. WING's aim to promote a mutually beneficial relationship between its borrowers, lenders, and guarantors by its governance model and risk control mechanism.
As of now wing.finance already has $119,397,389.08 in the deposit. Wing encourages more new product proposals from the community to create better decentralized financial products, and jointly build a decentralized credit financial ecosystem with the Wing DAO community.
Main Features of Wing Finance?
Unlike other DeFi platforms Wing Finance has three main features at the time of launch.
What is Flash Pool in Wing Finance – Flash pool in Wing includes lending, borrowing, and insurance. The first lending product on Wing, supporting mainstream assets lending and innovatively introduces Insurance Pool to lower asset risks. Users can also earn WING rewards by lending, providing loans, and depositing to the insurance pool. As of now, it supports ONT, DAI, ETH, USDT, and wBTC and expected to support more assets later.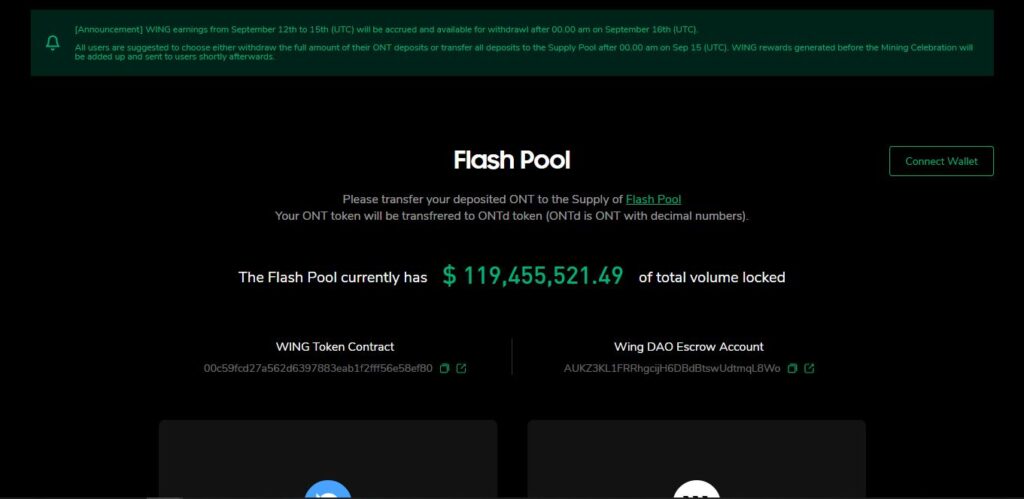 What is Credit Lending in Wing Finance – The main feature of Wing Finance that makes it different from others which are going to be launched soon. Wing will launch IF Pool later, which is a credit-based lending product. Here users with OScore can deposit assets which value is 80% or higher than the asset borrowed.
What is Community Proposal in Wing Finance or Wing DAO – Wing finance had given the power to its community and encourages more new product proposals from the community to create better decentralized financial products. The community has the power to make independent decisions on product launches based on community participation.
Asset Swap – User can also swap their assets from their platform using any external wallet like Metamask.
You can read more about the WING Finance at Binance research.
Why invest in WING?
A fully working DeFi platform created by the Ontology team who is already maintaining the Ontology network and well-reputed.
Being partnered with Binance for farming WING tokens by staking BNB, BUSD, and ONT.
Having a limited supply of coins 2,000,000 WING tokens with a total supply of 10,000,000 WINGS.
Looking at how Bella popped up from $0.75 to $6.5 this is going to be a good investing opportunity.
Where to buy WING token (Wing Finance coin)?
The trading of WING coin will be available on Binance after 16 September. You can though also trade WING coin from the Hotbit exchange. You can use this link to register on Hotbit and get 10% rebates on trading fees you pay.

Please Note: As Hotbit already listed another token WingShop with the same token name, it had changed the Wing Finance token to WING1.
Currently, WING coin is available on only these two platform which will later get listed over others too. We will keep you updated.
Take away
WING finance built by Ontology can be a good investment because of its circulating supply, a good team behind the project and DeFi hypes. The profits, created with Bella Finance earlier on Binance can also affect its price once listed over other exchanges. You can buy WING from Binance and Hotbit for now. You can also farm WING tokens till 15 November 2020 by staking ONT, BNB, BUSD through Binance.