Hotbit Affiliate program, commission, bonus, and rewards for inviting others
Hotbit exchange launched an affiliate program where the users can refer others and can get up to 40% rebate in fees. So, here is a full guide about how the Hotbit.io affiliate program works to give your commission, bonus, and rewards for inviting others. You can register with this link or use DKezVk as a referrer at the time of registration to get 10% rebates on fees.
What is Hotbit exchange affiliate program?
Every cryptocurrency exchange like Hotbit has its own affiliate program to expand its exchange to a larger userbase. Affiliate programs have three entities. The platform, the user, and the lead or expected new user. Just like Binance, Huobi Global, Kucoin, WazirX, Bitbns affiliate programs Hotbit.io affiliate program provides rebates to both new users and the referrer.
Hotbit Affiliate Program
Hotbit's affiliate program offers up to 40% rebate in trading fees they charge to both referrer and invitee(the person who is invited) on each trade. The referrer can share some percentage of rebates with the invitees. Like if you join with this link you will get 10% rebates in trading fees charged by Hotbit on each trade. You will increase is to 20% by holding Hotbit Token(HTB).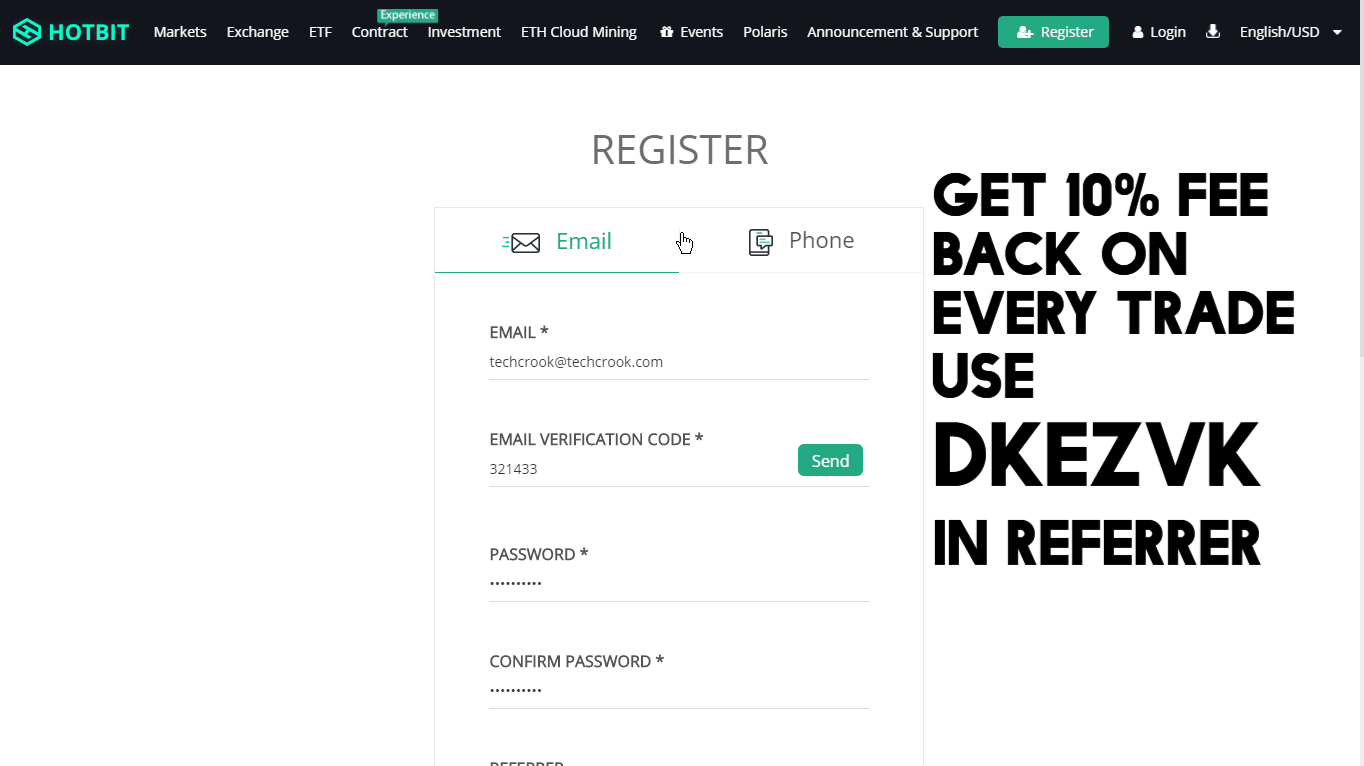 What is Hotbit Affiliate Tiers
What does it mean by tiers in the Hotbit affiliate program on any affiliate program?
Tiers in simple terms are invite levels. Tier 1 invites level 1, which includes those whom you invited directly. While Tier 2 are those who are invited by your Tier 1 or directly invited users. Let us understand this with an example:
Let's assume you invited A and B who further invited others C, D and E. So, A and B are your direct referrals or Tier 1 referrals, and C, D as your Tier 2 referrals also called indirect referrals.
Hotbit affiliate provides a tier-based approach to provide rebates to its affiliates. The rebate percentage depends upon the total Hotbit Token(HTB) the invitee holding. By default, its 20% and you can share up to 10% with your referrals. You can use this link to register or use DKezVk in Referrer to get 10% rebates in trading fees on every trade.
So, here is how the how Hotbit provides rebates to its users. The rebates are different for different trades. On ETF trades the user can get up to 60% rebates while on normal trade users can get up to 40%.
Hotbit Affiliate Rebate Rules
If the affiliate's balance is more than 5000 HTB the user can share up to 10% with its tier 1 invitees. If HTB is more than 50,000 then the rebate ratio can be up to 40%. And user can share up to 15% with its Tier 1 invitees.
Other rebate levels and so on.
The tier 2 rebates for all is fixed you will get commissions of the tier 2 invitee transaction fee multiplied by the tier 2 rebate ratio.
The real rebate, the calculation will be based on the total tier 1 rebate and the tier 2 rebate ratio corresponding to your HTB balance at 0 am (GMT+8) every day.
You may add up to 20 different invite links.
ETF has a different referral bonus percentage.
Key Takeaways
Hotbit affiliate program provides a great opportunity to earn a good amount as Hotbit is ranked #1 in terms of listing new tokens. So, you can get early birds like NEAR, Bella tokens here before listing anywhere. Being two years old that's a quite achievement. People are moving to new exchanges who are providing an early opportunity for its user to invest in new and more potential coins. That's why we saw how Binance added more than 20 coins in the Defi race. So, register now with them and join their affiliate program.