Where and How to join Subsquid Incentivized Testnet and earn free SQUID airdrop tokens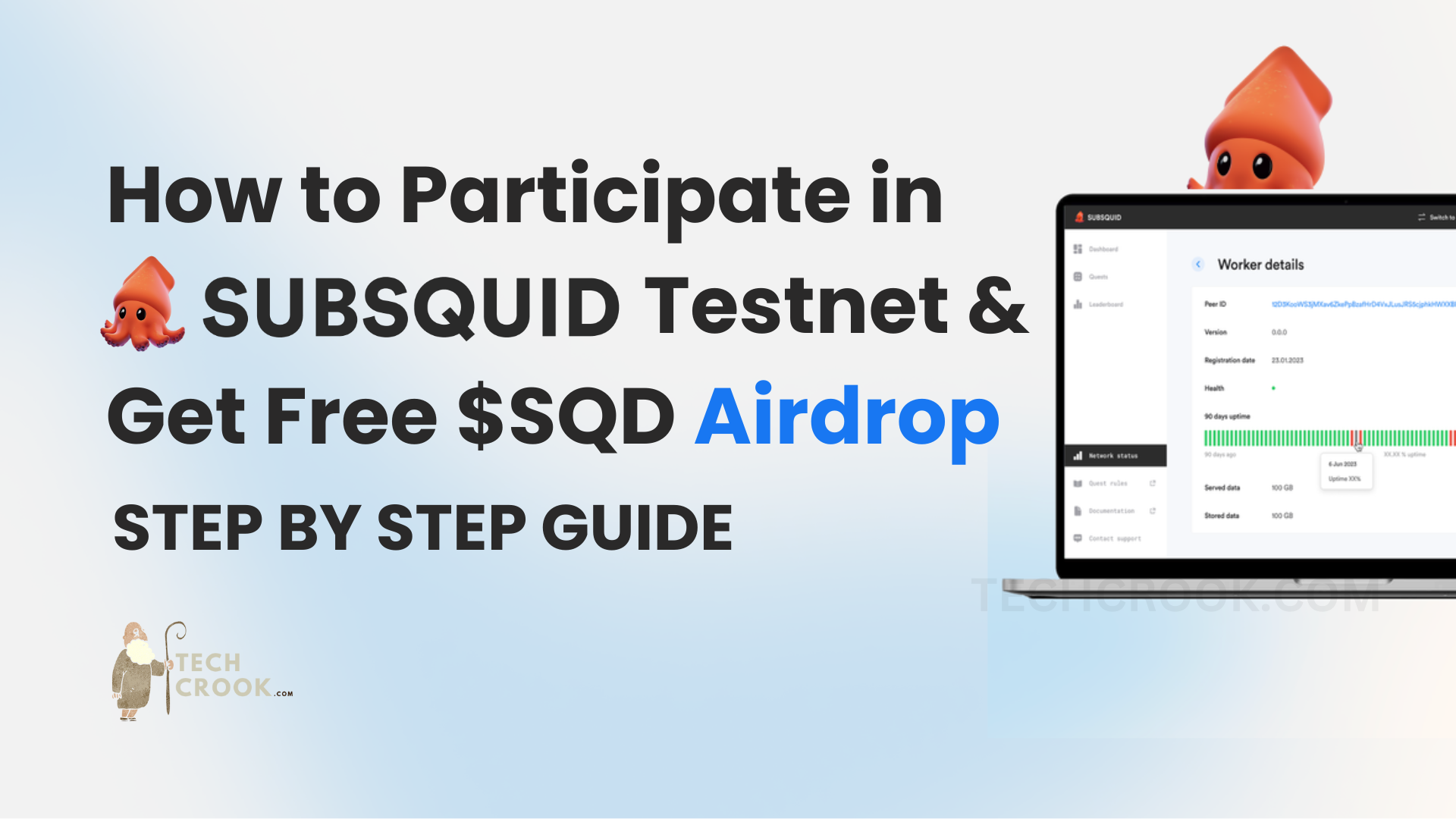 Subsquid is a data network designed for the future of Web3: rapidly and cost-efficiently retrieve blockchain data from 100+ chains using Subsquid's decentralized data lake and open-source SDK to build billion-user dApps. Subsquid testnet is going on and here is a step-by-step guide on how you can participate in Subsquid community testnet and earn free Squid tokens. Check other incentivized testnets live here – Upcoming Testnets.
What is Subsquid?
Subsquid is a full-stack blockchain indexing solution that includes an open-source SDK, specialized data lakes for on-chain data (Archives), and a hosted service (Aquarium). Subsquid solves the data access problem for a wide range of online and analytical use cases. As of the Mirovia release (June 2023), it is possible to provide infrastructure by running a worker node instance. Workers contribute storage and compute resources to the network and are rewarded with $SQD tokens. For more info read Subsquid docs here.
What is Subsquid Testnet?
If you're new to the blockchain world, you might be wondering what the Subsquid incentivized testnet is. Subsquid is a blockchain platform that enables decentralized finance applications. The testnet is a simulated environment that allows users to try out Subsquid's features and functionalities without using real money or risking any actual transactions.
Because it's a testnet, it's constantly being updated and improved. To participate in the Subsquid testnet, you will need to set up a Subsquid testnet account and complete simple tasks like connecting your wallet, Twitter, discord tasks, etc.
Subsquid testnet is coming in two phases, one is expected to last ~4 months. The timeline is subject to change at the sole discretion of Subsquid.
Phase 1 – Mirovia Era: Public Testnet
Phase 2 – Panthalassa Era: Public Testnet
Subsquid Testnet Airdrop Rewards
As per Subsquid Labs allocated ~2% of its token supply to the testnet. ~1% i.e. 13,300,000 SQD is allocated to developers of indexers (squids) and the remaining to community members. Another ~1% or 13,300,000 SQD will be rewarded to worker node operators.
4000 + 133 participants are going to win rewards so the amount will be huge.
Subsquid Airdrop Testnet for Worker Node Operators
Node runners will receive points based on the following parameters; additional criteria may be identified at the discretion of Subsquid during the program:
The number of nodes run
Node uptime
Query execution performance
Community engagement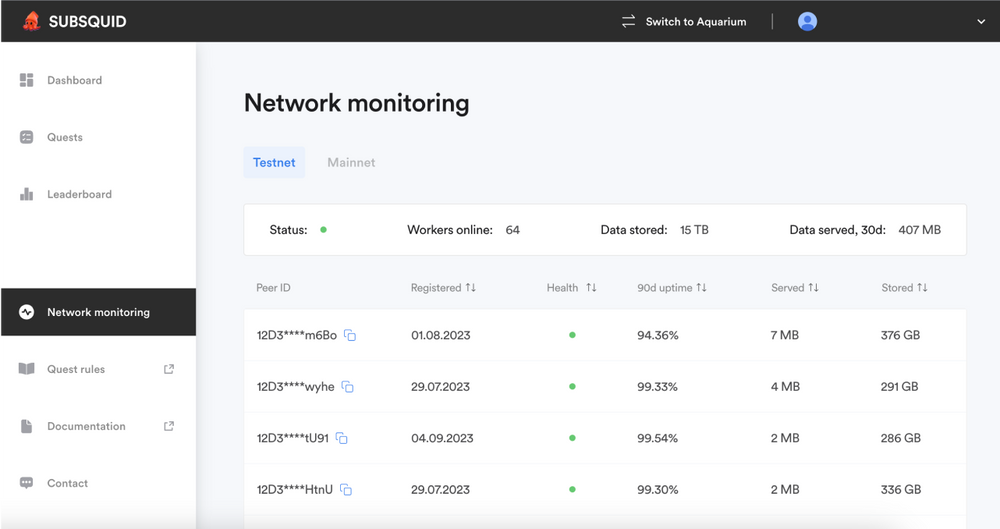 Subsquid Testnet Airdrop for Developers and Community
Developers as well as non-technical participants can earn tSQD by completing quests in Subsquid's network app. Tasks include but are not limited to:
(Developer) Building and deploying squids
(Developer) Migrating subgraphs to Subsquid
Test and provide feedback on app features
Engaging with the community and earning roles on Discord
Delegations
Eligibility for the Subsquid testnet airdrop
Eligibility for the Subsquid testnet is detailed in the "Who May Use the Services" section of the Terms and Conditions. Participation is restricted to jurisdictions where it is permitted by applicable law. To be eligible for rewards, participants must undergo KYC, KYB, and AML checks.
There are no selection criteria to join as a developer or community member, all that is required is to log into the network application. Infrastructure providers who run worker nodes will be informed by email.
How to join Subsquid Incentivized Testnet Airdrop
Step 1 – Join the Subsquid Network Testnet App and create an account.
Step 2 – Once you create and confirm your account, you are ready to go. Afterward, you have to complete the Quests like following the team on social media accounts, linking your wallet, etc.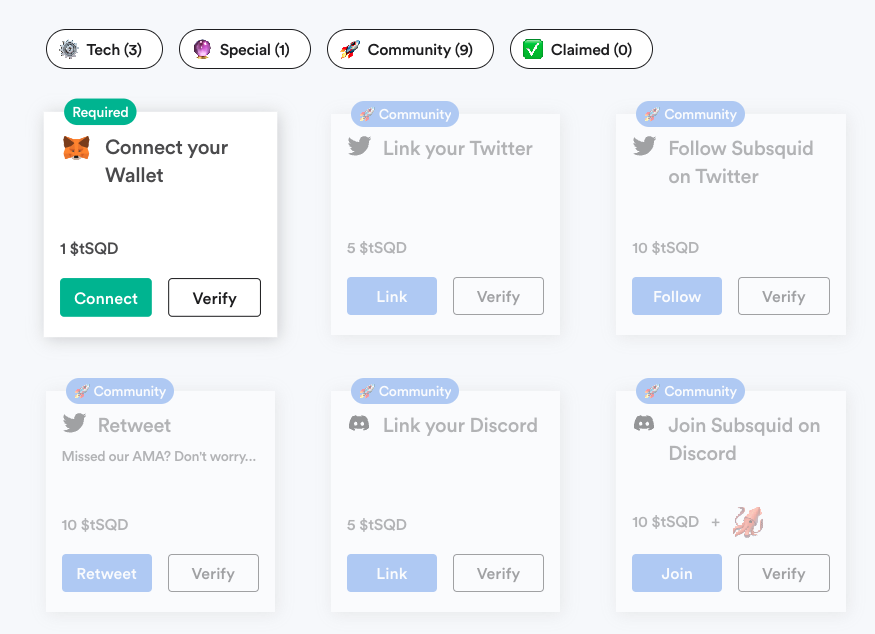 Step 3 – Every time you complete a task you need to verify the task by clicking on Verify in the Subsquid testnet airdrop to get tSQD tokens.
Step 4 – Later once you get into the top 4000 users in the leaderboard, you can convert this tSQD to an actual SQD token airdrop.
Key Takeaway
This is one of the biggest airdrops that is going on with the SurpaOracles airdrop, and Zetachain airdrop, you can check some of the big airdrops and how-to guides here. You can earn up to 13300 in Subsquid airdrop by completing all the tasks and hence it is one of the biggest airdrops as of now. This airdrop is being supported by Coinlist as well.