How and Where to buy Rally Token (RLY) from Presale/ICO from Coinlist
Rally.io, a cryptocurrency platform that allows creators to start their own digital currency with their Rally token. Fans can purchase the creator's currency and use it to unlock exclusive or unreleased content. Anyone can join and create their own token. Currently, it only supports Twitch, Twitter, Youtube but soon it supports a lot of other platforms. To buy Rally token from public community sale from Coinlist here is our step-by-step tutorial.
Rally token public sale/presale completed on April 1-3, 2021 on CoinList. Although you can buy Rally tokens from Hotbit exchange, MXC, and KuCoin Exchange without KYC.
Here is a step-by-step video guide on how to buy Rally token with Coinlist in Hindi.
If you wish you have invested in this project in presale, here is another opportunity. There is a new ICO that is going on Coinlist. Learn how to invest in Efinity token ICO developed by Enjin from Coinlist.
Here is an updated list of potential ICOs going on that you can invest in.
What is Rally Token?
Rally token is created over Ethereum social token, on which any social guy creates their own token for their fans. Anyone with an online community can launch their own tokens without any coding on Ethereum. Rally is a decentralized platform completely governed by the community. This means it totally controlled by creators and community members across all social platforms.
Rally Token (RLY) is currently available only on CoinList. The RLY token sale is structured to take place on a first come first serve basis. There are 40M tokens available for sale, in which any interested qualifying party may participate.
The point is Rally token is available on Hotbit exchange. In case you don't want to participate in this sale you can simply buy RLY tokens from Hotbit without any KYC requirement. Though, we are expecting the price of Rally token to be at least 20-50% less in this community sale organized by Coinlist as there is a good amount of lockup period.
Rally Token Community Public Sale
The Rally Token Community public sale allows the community to purchase up to $1,000 worth of RLY tokens. The user will get RLY tokens as a pre-sale price which will be determined before 24 hours of the sale. There is no limit to the users who can buy the RLY token until the 40M coins are sold out.
RLY token Sale Period on Coinlist: 04/01/2021 at 00:00 UTC – 04/03/2021 at 11:59 UTC
Eligibility: USA, Canada and China individual are not allowed
Minimum Purchase limit: $100
Maximum Purchase limit: $1000
Official website: https://www.rally.io/
Register yourself to buy RLY tokens in Community Public sale from here or you can simply by tokens from here.
There is 12 month lockup period for Rally tokens purchase during Coinlist community public sale. In which, you will get 50% of your coins just after 6 months and then remaining, every month till next six months.
Why Rally token community sale is a good investment?
Rally token will be a good investment because its product is already live and improving constantly. Also, it is backed by a crypto giant Coinbase Ventures, which picks very unique and great products. We also did mention this coin in our article – Coins that going to explode in 2021 in terms of profit in early December. And it did give a good return till now and expected to get better.
Here is a list of individuals who already created their own tokens with Rally. We all know, Portugal the Man, he already created his coin PTM, we are also expecting other great influencers on this board soon. So, be ready to see another big thing in crypto just after FLOW token NFT. If you are a creator yourself with a community, you can also join this network and create your own coin as well. Register on Rally to create your coins and they will contact you.
Rally token is already on fire right now, and several Youtubers, Twitter accounts, Twitch accounts have already signed and created their coin over the rally token. You can check the list here.
Here is an article on Adweek explaining why everyone is jumping to create their own social coins.
How to buy Rally Tokens from CoinList?
Click this link to register yourself to CoinList for buying Rally Tokens. On clicking the link you will see the screen something like below: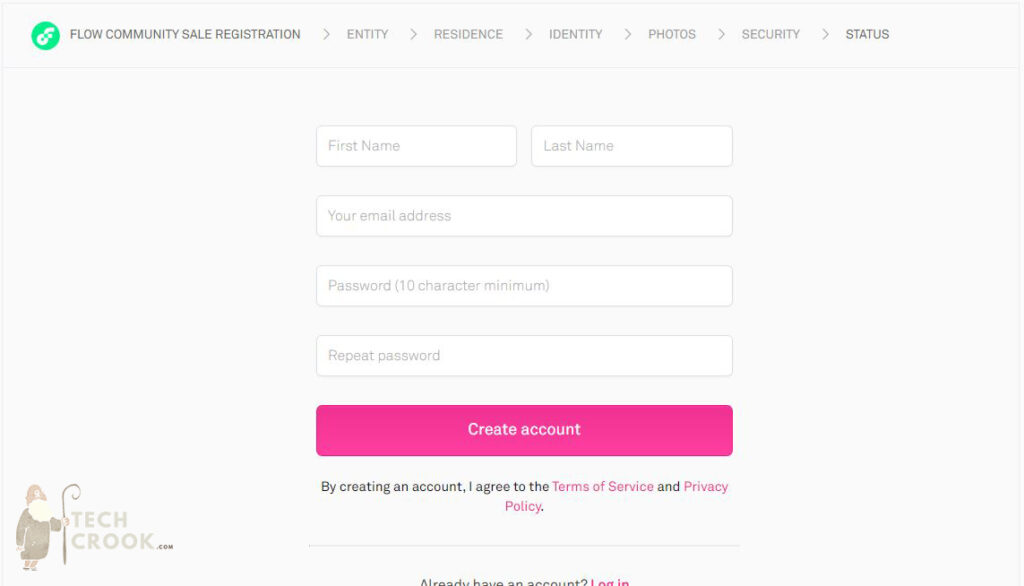 Step by Step procedure to buy Rally token from CoinList
Once you create an account with CoinList. After that, you just need to follow the procedure. As you can see there are 5 steps to participate in Rallly token community sale.
Entity – Getting the details about the project. How much you want to purchase and all about coins. Fund your wallet and you can use BTC, ETH, USDC, or USDT to purchase the FLOW tokens.
Residence – You can participate in any sale unless you are from US, Canada or China.
Identity – It needs KYC, so here is identification. Submit your ID proof documents. It can be anything, your driving license, passport, or id proof with your address on it.
Photos – In this step, you have to capture yourself live with the identification proof that you have just submitted.
Security – The risk warning and funding your wallet.
Status – Now, everything is done and it is in progress. Once they deduct the funds you will now officially get the RLY token with respect to the price you choose from.
You will get your RLY tokens in your account once the sale period ends after the sale completed. This will be locked and given to you in next 12 months in two parts. 50% after 6 months and remaining 50% in every month till next 6 months.
Will Rally Community sale affects the RLY tokens current price?
Though, we are expecting a huge surge in RLY price if the community sale price is exactly the same price that will have on that day. But if it is less than 50% the RLY price will gradually decrease to 20-30%. Though, this is totally an estimation and not the be considered as investment advice.
Key Takeaway
I already have a good bag of RLY that I bought on Hotbit in early January, 2021. It already gave a good return and is expected to do so in upcoming days. They are already accepting new applications for new creators who are on Youtube, Twitter, Twitch and several other online platforms. So, if you want to invest now-now using Hotbit, you can expect it to go to moon soon. Or if you want to buy it with Rally Coinlist public community sale, I will recommend you to do only when the price is at least less than 30% of Rally's that day price.
So, whatever you do, make sure you understand the risks. It is possible that it get hacked and its price turned to around negligible or maybe Youtube make it's official token and it get 100x. You must be ready for both scenarios before investing in Rally token. So, do your own research as well instead of blindly following anyone.